Carolyn M. - Running 4 Answers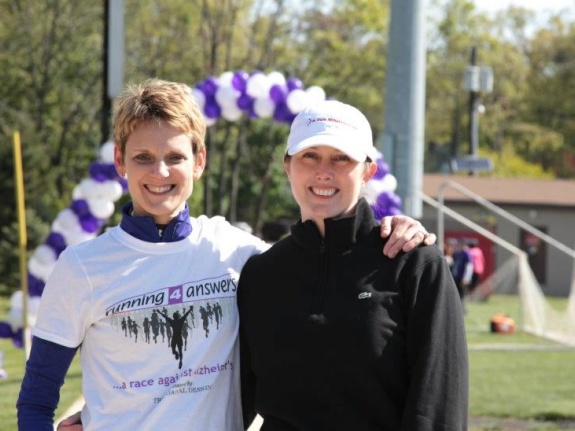 The saddest part is that my story isn't unique. Many who read this will have similar ones to tell. Noticing that my mom wasn't quite right was a scary revelation. Realizing that it was happening at the age of 55 was terrifying. She is a wife, mother, daughter, sister, friend -- roles that she taught me how to do well. She was an avid reader and trivia buff. She was a registered nurse at a nursing home for 22 years, a job she enjoyed tremendously. She has lived in one now for 7 years. She is almost 68 years old.
Having lost my mother-in-law to breast cancer, I knew there were many ways to donate -- many ways to DO SOMETHING. As a runner, I found races that support breast cancer research. I looked for races to support my mom, but, for a disease that affects 35 million and continues to afflict another American every 70 seconds, I was shocked to find not one race benefitting Alzheimer's. The disease is devastating to watch; however there was nothing to do but watch. As a personal trainer, I believe in change -- that things can be different than they are now. I decided to change the lack of races. I reached out to my friend and fellow fitness enthusiast, Barbara Geiger, and asked if she would be interested in helping me put something together. A race was born.
The name of the race started with Melissa Etheridge's song in reference to breast cancer, "I Run For Life." A song I love, we looked at the lyrics to spark some ideas and found the line, "running for answers." The second we read that line, we knew we had found a name for our race - "Running 4 Answers, a race against Alzheimer's".
We lack answers. They are lacking in the research and they are lacking in our daily lives. How often did I hope that the answer to the question, "Mom, do you know who I am?" would produce the right answer -- or even an answer.
Cure Alzheimer's Fund (curealzfund.org) is exactly the type of organization I was looking for. Their singular focus on research is what we need. I'm not just watching my mom in a nursing home. We are doing something. It alone will not solve the problem, but it is a step in the right direction.
Running 4 Answers offers the opportunity for YOU to do something, too. Run. Walk. Donate. Sponsor. In our first two years we donated $25,000 and $30,000 to Cure Alzheimer's Fund and are excited about our upcoming 2012 event on Saturday, April 28, 2012 in Roseland, NJ.
Join us. www.running4answers.org.
Tags:
Sons and Daughters
Activists