Tinkie W. - Peaches and Cream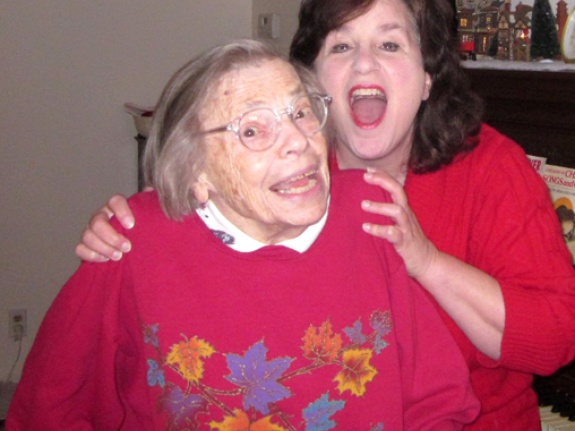 My elderly mother loved going grocery shopping with me, although it tired her out. She wandered happily through the store by my side, clutching the handle of a rolling shopping cart. She tended to smile at, and talk to, just about everyone who passed by.
Strangers frequently stopped to say, "You're so lucky you have your mother. I wish mine were still alive."
Every once in a while after a rocky night with my mother, I was tempted to say, "Well, our life together isn't all peaches and cream."
I always stopped myself before I said it, however. Despite the difficult times, despite my mother's growing dementia, I was indeed lucky. Although the peaches occasionally had stony pits, our household always seemed to overflow with them. And they were surrounded by cream.
My mother suffered from Alzheimer's disease for at least 12 years, although she managed to cope until the final three years or so. By the time those last years rolled around, I was living with her full time and taking care of her. Our days and nights weren't universally easy: like many people with dementia she wandered out the door by herself from time to time, contracted infections that made her almost crazy, and eventually no longer remembered who her children were.
Nevertheless, our family experienced many blessings. One was that, unlike her own mother before her, my mother generally showed little awareness of her memory loss. Another was that she had always been a happy, laughing, loving person; in general she remained that way through her final illness.
My mother became a little girl again as she "unlearned" many adult skills. Fortunately, she had apparently been a very sweet little girl. As she lost more of her brain, her heart seemed to step in and take charge. People responded to her smile and her spirit.
She died at home surrounded by love and music at the end of 2011.
Without Alzheimer's disease she would have died later, sharing her smile and her spirit with even more people. I wish she were still alive, and I wish we could find a way to beat this disease.
I am grateful for the many gifts she gave me, however. Even in the months before her death she exhibited courage, optimism, and humor.
After her death I wrote Pulling Taffy (www.pullingtaffy.com). This book uses journal entries, recipes, and meditations to talk about our time together and her illness. It helped me cement the lessons I learned from caregiving—and helped me restore my mother's memory in a way by sharing stories about her early years as well as her final ones.
I WAS lucky to have her, and I'm lucky to have rich memories of her.
I think of her every time I eat peaches and cream.
Tags:
Sons and Daughters