Heidi Hoyt - Caregiver Support: The Data Is In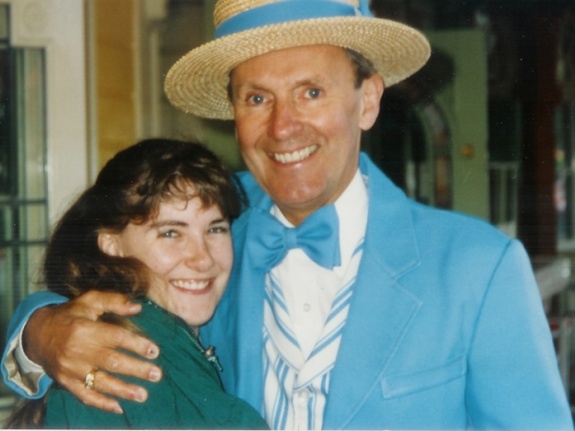 For over twenty five years, my dad was an airline pilot and traveled the world. On his days off he also worked at Disneyland and Disney World singing with the barbershop quartet called the Dapper Dans. He loved both jobs and was the epitome of health. He was a brilliant man who loved life and enjoyed the outdoors and spending time with his friends and family. 
In early 2004, our family noticed my dad having problems with his memory. He was soon diagnosed with Alzheimer's. And this is when my world came crashing down. He was my dad and I couldn't imagine him dying from this devastating disease. Very quickly it became difficult to communicate with him since his mind was literally wasting away. And I was frustrated and sad to see how stressed and exhausted my mom became as his caregiver.
In 2007, I started working towards a Master's degree in Communications. Due to my experience with my dad and the challenges of communicating with him and supporting my mom, I quickly decided my thesis topic would focus on The Use of Social Support by Spouses of Alzheimer's Patients to Improve Communication. Social support is: emotional, informational, belonging and tangible (logistical) support. My mom resisted joining a support group. In fact, it took her a couple of years to join a group. But through my research I collected data confirming my belief that using some sort of social support helped caregivers communicate better with the Alzheimer's patient. Caregivers who meet with other people going through the same experience learn helpful tips on how to better communicate with the Alzheimer's patient. Of course, there are many other benefits as well, including the knowledge that one is not alone. This reduces frustration for the person with Alzheimer's and for their family caregiver. 
Sadly, on June 22, 2009 my dad passed away as my mom and I held his hand and told him that we loved him. I feel very blessed to have been there when he passed because I always feared that he would die alone. 
I have witnessed how this disease has not only affected my father, but also my mother, family and our friends. From my research and personal experience, I strongly believe that some type of social support system enables the spouse to better understand the disease and improve their communication with the Alzheimer's patient without getting as frustrated. I saw how reaching out for support helped my mom. I hope that some of my research will motivate caregivers and family members dealing with this devastating disease to reach out for support through a group online or in their communities.
Tags:
Sons and Daughters