Claudia D. - The Love of My Life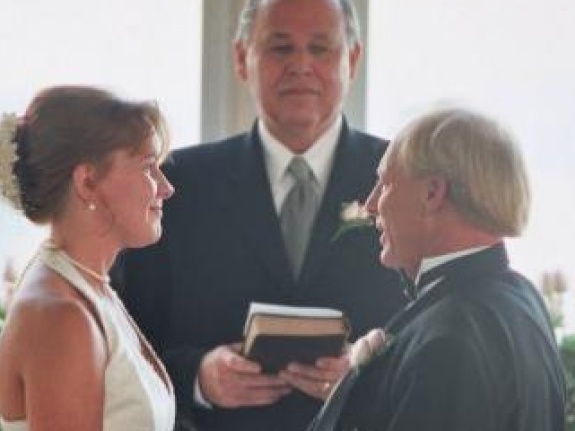 We met in 2005 at work. He pursued me to date him. I turned him down 3 times before agreeing to a drink; only to explain to him that I didn't want to date someone I worked with.
3 months later we were married. Craig was a very persuasive attorney. He fights for what he wants. 5 months after that he was diagnosed to be in the very early stage of Early Onset Alzheimer's at age 59. As a new bride I was told I was going to be a widow within 10 years. Imagine. Devastation for the both of us doesn't even begin to touch what we felt. He is the LOVE OF MY LIFE.
Six years later Craig now lives in a memory care community. I tried to keep him home as long as I possibly could. I tried to hire people to help me but Craig experienced paranoia with each one and it became impossible to safely keep him home. I cried hysterically for days after moving him from our home and I still cry hysterically. I visit Craig every day and feed him lunch or dinner. If I take a day off for myself, or cannot get there because of snow or whatever I don't like it. I like to be with him. I miss him. I cannot imagine my life without him.
Some people I talk to know nothing of the disease, I didn't before I got to know it intimately. They ask me ""oh, that's where they forget things isn't it?"" Sadly for them I pull out my soapbox and educate them that the forgetfulness is the easy part of the disease. I go on to educate them about the paranoia, confusion, obsessiveness, the fits of anger, despair, sexual overdrive, etc, etc, etc...
As I said, Craig is a fighter. And he is still fighting. He can no longer walk, speak well, feed himself and is incontinent, but he FIGHTS. He screams for hours, he turns over tables if near, he hits his caregivers. He had to go to a Geropsych unit for a few weeks to try to get his rages under control. And yet he is still fighting. New medications are helping and right now it is a wait and see.
I chuckle every time I hear a ""new finding"" that if you do crossword puzzles - keep your mind active and keep your body active you can ""ward off Alzheimer's. HAH! My husband got up and worked out every morning. He was a practicing corporate attorney at the time of diagnosis and he golfed or was out hitting balls 6 days a week. He ate very healthy and hadn't had a drink in over 20 years.
I love this man with all my heart and soul. I miss him desperately. I HATE ALZHEIMER'S. Somebody please make it stop.
Tags:
Spouses and Partners