Karen G. - Missing Jim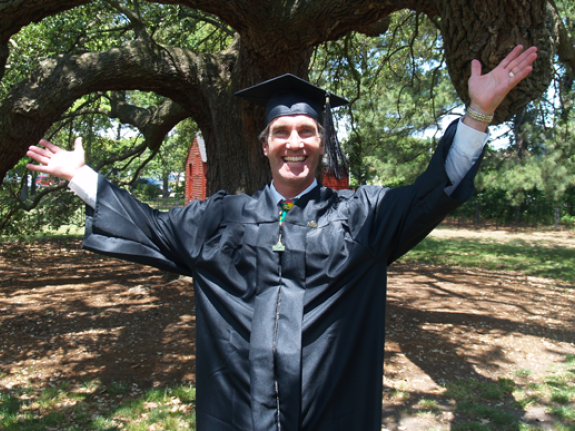 Originally from Connecticut, Jim attended UConn for a year and half after graduating from high school in 1980. In 1982, he joined the Air Force and started a 23-year career working on radar systems. His work took him around the world — Germany, Italy, the Caribbean, Columbia, Utah, New Mexico, Nevada, South Carolina, and finally, Virginia — he was stationed in all of them. Jim worked hard and eventually made the rank of Senior Master Sergeant. He retired after working on the Inspection General team, travelling again all over the world, and began working for several different government contractors until losing his job to government layoffs in January 2012.
In May, 2011, 31 years after starting – and pausing– college and living in 8 different countries, 6 different states and holding 5 different jobs, Jim finished his degree. That says something about his tenacity and his ability to keep reaching for his goals. He did this even after learning his was stricken with Younger Onset Alzheimer's Disease. An inkling of awareness — of the possibility that something might be inherited — came with the death of Jim's Mother from Alzheimer's Disease at the young age of 61. Jim was diagnosed in 2011 with Early (Younger) Onset Alzheimer's Disease. Soon after, Jim's brother was taken by Alzheimer's Disease at the age of 52.
While faced with this horrible disease, Jim remains the soul of grace. He is kind and gentle. He doesn't yell. He doesn't gossip. He accepts people as they are. He helps out whenever and wherever he can. Jim was the kind of dad to get up in the middle of the night to change a diaper or soothe a child back to sleep. He read to the kids when they were little (and loved to read Stephen King, though not to the kids at bedtime!) He taught them to ride bikes, and helps with chores, and always finds ways to show his love for his family.
One look at Jim and you can tell he's an athlete. He jogs and plays tennis, and played racquetball, football, softball and volleyball wherever he was stationed. But unlike most jocks, he's really good at math.
Jim is a fighter. He is doing whatever he can to change the course of this disease for himself and for all of those that will come after him. Jim has a great attitude. And he takes life day by day.
Tags:
Spouses and Partners