Ally K. - My Tribute to Daddy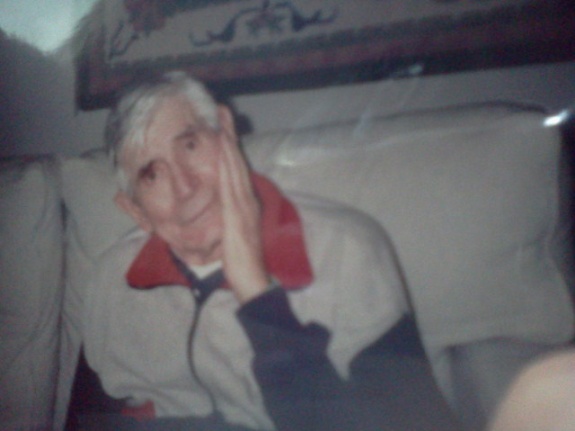 My Daddy passed away from Alz in 1996..I wrote this in tribute to him the Fathers Day 0f 1996, later that week he passed away. I didnt know at the time I when wrote this, that I would someday have the right venue to share my feelings of what I was going through. I hope this helps someone out there who is living through this nightmare now as a caregiver and son or daughter of your loving Daddy.
There is a stranger I've come to know...
He started showing up about five years ago.  He was subtle in his arrival, but his persistence of become part of my family has become relentless. He has slowly been making his presence known more and more.  This stranger has a name, I call him "Daddy".
The man I grew up with as my Daddy is gone now.  He looks somewhat like him, but there is very little resemblence left of the man I knew.  His mind and now his body slowly being taken by the treachery of a disease that has a name, but no cure.
The Daddy I knew and grew up with, was allways quick with a smile and had a glint in his eyes that allways assured me and comforted me that everything would be OK. Now, more then ever, when I look to find the re-assurance I so desperately need, all I see are the hollow blank eyes of a loving gracious man who is slowly fading away, giving into this stranger in our presence.
My mom got a new roomate, someone whe has married to for 45 years. She didnt even get to say goodbye to her husband, this other man just moved in and became totally dependent on her for everything without warning.
She has now joined the ranks known as a married single. She endures the bleak reality of having the man she loves and vowed to stay with forever, moved to a nursing home, to ease her burden and lighten her load.
Mom is the strongest, bravest person I've known, who did more then should be expected, especially for a stranger.
Now, I go and visit him at his new home. We sit and hold hands silently, and I find myself wishing..I wish I could of said Good Bye, I wish I could of said Thankyou for all he did for me, I wish he could understand how much I love him, how much I miss him..
But, only this stranger remains in the frail weak body of a Great Man I used to know..
I called him "Daddy"
June 16, 1996.
Now, Daddy's journey has come to an end.
Only the memories of the pain and suffering we all endured the last years of Daddy's life.
The Lord has finally, mercifully taken him to end his pain. He is with his loved ones that have gone home before him.  I take comfort knowing he is being enveloped with the love and jubliation of reunion we can only imagine and dream of.
I will miss him and think of him often.  But after all "Daddy" has been gone for a while now.
We are burying a stranger, who now has the soul of an Angel..
Something which I knew he had all the time..
Goodbye Daddy, you were the Best!   
-Ally
Tags:
Sons and Daughters