Teresa H. - Singing a Song for Support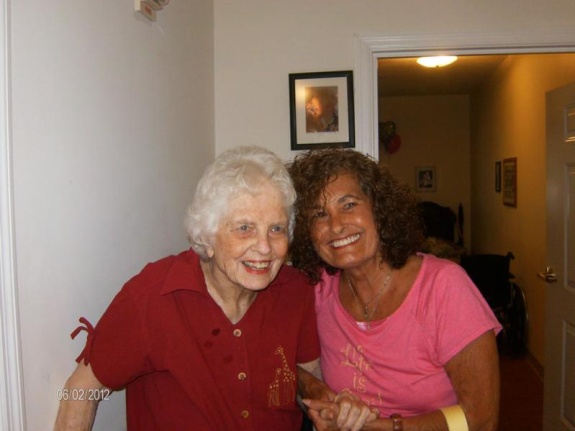 My Mother will be 87 in June. She has had Alzheimers for 10 years. When we could not longer care for her at home, she was placed in a great facility for Alzheimer patients. Through the 10 years, my Mother has been so very happy, cordial, loves music, dances, and loves people. On the other hand, she knows not her family, knows not what she eats, where to go, where to stay, and has to be shown and helped with all aspects of her care. I wrote my grief down on paper, and wrote a song called "Fading Memories", had it recorded, and thought I could really do some good for Alzheimers. But alas, after 2 years I still can't get this song from my heart out to the public and people that need to hear it. One day I was fixing my mother's hair, and like you, she looked me in the eye and said" who is your mother".
I've always tried to be positive and I said "Is this a trick question, you are my Mother". She laughed and said " I know, " and we hugged. We have had such good times in the ten years that she has been sick, but now that her mind has all but faded away it truly becomes harder to be positive. We have enjoyed her so much. I try to take a negative to a positive when I see her and I leave not quite so sad. My husband and I sing at churches, Nursing facilities, bluegrass festivals, and I give testimonies about Alzheimers. We are paying the facility out of pocket and the money is giving out. The sales of my song would be a way to continue her care and standard of life. I have put up a web site, but not many visits. You may go to www.fadingmemoriescd.com and see the story and pictures of my mom.
I feel like a failure as an advocate for alzheimers, as a song writer, but I do not feel like a failure in taking care and the best for my Mom. If I had my dream come true, I would want my song sung by someone famous and is an advocate for Alzheimers. I am retired, have autoimmune disorders, and don't have the financial funds to persue my dream. I vow a percentage of proceeds will go to Alzheimes or to care givers. I have had no luck with the Alheimers Assoc., I wrote to Maria Shriver(watched her HBO special, hunted for Leeza Gibbons last week in Fla, with no luck, I really don't know what to do. I do know that I will continue to promote my song, give to the unfortunate, and give of myself to this horrible disease that has taken over my Mothers life.
In closing, I say continue to enjoy your loved one, overlook the bad, focus on the good, and spend as much time as you can. Treasure your memories. I put my Mother in the hands of God, to watch over her and take care of her. He has answered my prayers.
AMEN
I am looking for a record label to sign with to support my mom and to donate to usagainstalzheimers. With support, we can get this going. Please help.
Tags:
Sons and Daughters