Nichole I. - Petitioning the NFL to Go Purple for Alzheimer's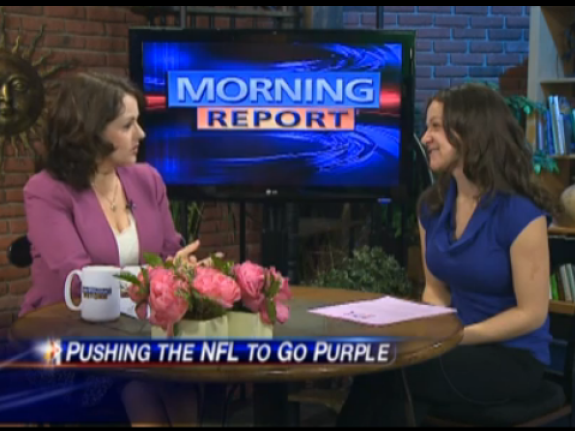 My husband's paternal grandparents were diagnosed with Alzheimer's in 2010 after years of exhibiting signs.  More than losing their home and their independence, they lost themselves piece-by-piece as our family looked on, aching to stop the process.  Alzheimer's is often called a "family disease," and I can attest to the truth of this label—Alzheimer's has devastated our family.  Last year, I was looking for ways to get active and participated in The Walk to End Alzheimer's in Portsmouth, New Hampshire.  With the support of friends and family, I was able to raise $535 in just six weeks!  After that time, I saw a documentary called "Blood Equity" about football players suffering long-term effects from the incredible hits they take during their short time playing football.  Something clicked.  The connection between football and Alzheimer's suddenly seemed so obvious and so beautiful— 1. Our family, Grammy and Grampy included, loves football and spends every Sunday from late summer to early winter watching football.  How wonderful it would be to see the NFL raise awareness and money for Alzheimer's! 2. A study from Reuter's found that death rates from Alzheimer's and Lou Gehrig's Disease were four times higher in former NFL players than those in the general United States population.  My mission became clear: get the NFL to "Go Purple" in the month of September—Alzheimer's Awareness Month—to raise awareness and money in the fight against Alzheimer's Disease. 
As you may be aware, the NFL goes pink in October for Breast Cancer Awareness and donates 5% of their ticket and "pink" merchandise sales to fight Breast Cancer.  Over the past three years, they have donated 3 million dollars and helped shine a light on the importance of the fight against breast cancer.  In my research, I found that since the year 2000, deaths from Alzheimer's Disease have risen 68% while deaths from other major diseases have decreased; this is no coincidence!  Last year, the National Institute of Health spent 5.8 billion dollars on cancer and 4.3 billion dollars on heart disease. Comparatively, the NIH spent just under 500 million dollars on Alzheimer's.  I personally feel that in order to get serious about making progress in the fight against Alzheimer's we need awareness, education, and more funding!
In February, I got active.  I e-mailed and sent messages to every NFL team.  I also sent e-mails to hundreds of players from various teams.  Teams were thoughtful in their responses and offered words of encouragement and support.  None, however, committed to action.  I e-mailed the NFL Players' Association, and they said the idea for the NFL to go purple is a great one, but it would be a decision for the NFL to make.  I contacted sponsors such as Nike, GM, Bud Light, and others.  All thought I had a great idea, none set forth an action plan or promised support.  Since I wasn't getting very much or very good feedback from the NFL or its sponsors, I realized that we needed something big to get their attention!  In early March, I started a petition on change.org in hopes of garnering support by the masses.  I primarily used social media to get the word out and saw a great following in the days after going live with the petition.  Since that time, I have seen signatures from states as far away as California and Texas, which gives me hope that the message is spreading!
As you know, on April 15th, I appeared on the WCSH 6 (Portland) Morning Show where I discussed this initiative with Sharon Rose.  In the days following, support on my FB page and petition soared!  I have also been in contact with Foster's Daily Democrat (Dover, NH) who promises a published article within the next week or so!  I need an agent for change to get involved, someone or something bigger than myself that can help shine a light on this cause to make it happen.  I have been contacting anyone and everyone who I think will help to propel this mission forward!
Tags:
Activists
Grandchildren