U.S. Preventive Services Task Force (USPSTF) Comments
The U.S. Preventive Services Task Force (USPSTF), which makes recommendations about preventive clinical services contended in a draft recommendation that there is "insufficient" evidence to warrant doctors conducting cognitive screening for older adults. Public comments on the task force's recommendations are due today. Click below to read the submitted comments by UsAgainstAlzheimer's and other organizations. 
Brain Health
Scientists now believe that the brain changes seen in Alzheimer's and dementia may begin many years before symptoms appear, so it is more important than ever that we treat our brains as vital organs and pay attention to our brain health. That's why we have launched a Brain Health Partnership to promote brain health.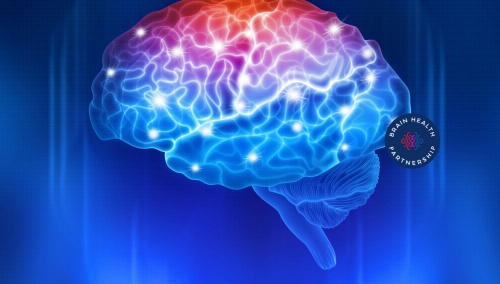 A Call for Action
Creating an Optimal System of Brain Health Care in the United States
Preventing and effectively treating Alzheimer's disease and other dementias are among the most important and urgent challenges of the 21st century.
Share: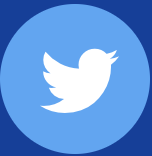 Brain Health Partnership
About
The risk and indications of Alzheimer's can be recognized as much as 20 years before apparent symptoms. This is a window of opportunity to delay onset, improve overall health, lower costs, and increase clinical trial participation.
Together with our partners, UsAgainstAlzheimer's is seizing this window of opportunity to address these challenges and transform the broader landscape for brain health. We are advancing a comprehensive strategy to ensure brain health is included as an integral element of overall good health and cognitive decline is identified and addressed early.
To learn more about this work, download the full prospectus here.
Our Goal
Our goal is to improve health outcomes for people living with or at risk of Alzheimer's and other dementias. To accomplish this, our strategy will work to make a "check-up from the neck up" a routine aspect of clinical care, encourage people to make lifestyle choices that reduce their risk, accelerate the widespread availability of treatments and medicines, and reduce health care costs.

Our Strategy
Together with our partners we are building a culture of brain health and a better healthcare ecosystem. We are working to help build the prevention and care system we need, a future where: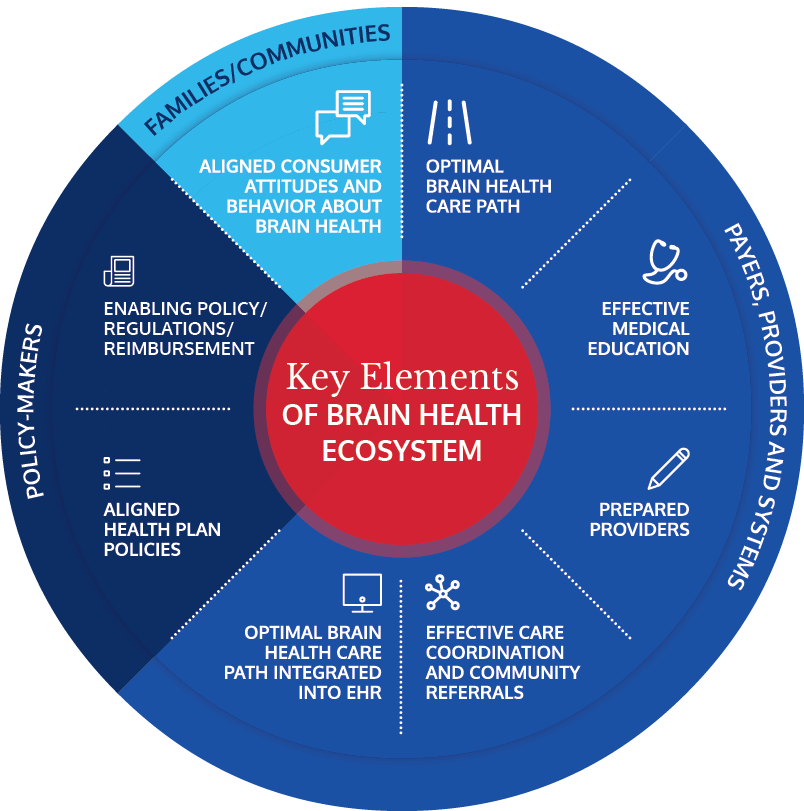 Families and Communities understand the importance of their brain health and view the brain as a vital organ— monitoring cognitive well-being, raising the topic of brain health with their loved ones and care providers, taking control of their own brain health and seeking out clinical research opportunities.
Providers, Payers and Health Systems address brain health, early identification of cognitive impairment, and proactive, collaborative care by discussing changes in cognition with patients, tracking cognitive baselines, and guiding patients to appropriate assessments, diagnosis, referrals, and services. Systems support this by optimizing workflow and leveraging big data and analytics for better decision-making.
Policymakers recognize the opportunity to maximize individual health outcomes, reduce total costs and minimize disruptions to the economy, as well as drive public health by advancing policies to support early and accurate detection and diagnosis, quality care, and aggressive research.
What's New
Visit the What's New page and read the latest from UsAgainstAlzheimer's on Brain Health.
Join the Campaign
One of the first major efforts of our Brain Health Partnership is our Campaign for Women's Brain Health: a collaborative effort to empower women to drive fundamental change in the way we care for our brains.
Almost two-thirds of Americans with Alzheimer's are women, and more than 60 percent of Alzheimer's and dementia caregivers are women. Our survey of more than 1,500 women found that 89% believe taking care of brain health is as important as other parts of the body, and 89% also believe that it's something we should be talking about more. Yet few women act on brain health, and many are unsure what to do.
Join our Campaign and learn more about what it means to #BeBrainPowerful
What is Brain Health?
Brain health is about making the most of your brain and helping reduce risks to it as you age. Evidence is strong that people can reduce risks to it as you age. Evidence is strong that people can reduce their risk of cognitive decline by making key lifestyle changes, including participation in regular physical activity, staying socially engaged, and maintaining good heart health. 
Brain Health is Women's Health