October 12-13, 2022
2022 National Alzheimer's Summit
Alzheimer's Prevention, Detection, and Treatment
The Power of Us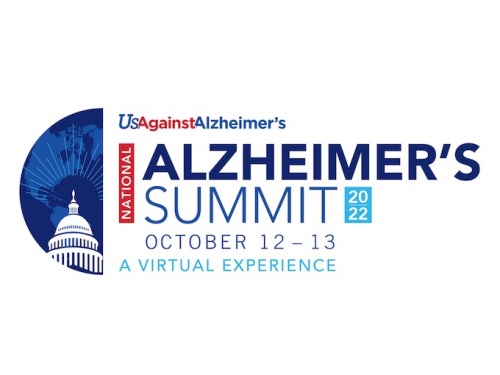 2022 National Alzheimer's Summit
Alzheimer's Prevention, Detection, and Treatment
The Power of Us
This year's National Alzheimer's Summit brings together international leaders working to end Alzheimer's disease as we discuss solutions to the most pressing challenges facing our movement. This virtual event is an excellent opportunity to interact with thought leaders and develop partnerships as we convene experts in advocacy, policy, research, and industry.
Over the course of two half-days, sessions will cover the latest scientific developments in prevention, early detection, and treatment—with a focus on ensuring more equitable access to innovations for everyone, especially women and people of color, who are disproportionately affected by Alzheimer's.
DAY 1 – Wednesday, October 12, 2022
1:00–1:15 - State of the Movement
Opening keynote from George Vradenburg, Founder and Chairman, UsAgainstAlzheimers
1:15–2:10 – TOWN HALL #1
Drugs in the Pipeline: What's Next and the Science Behind It
DESCRIPTION: The biology of Alzheimer's is complex. This session will cover the latest research at the heart of the amyloid hypothesis, how each new drug in this class is different, and what other innovative solutions are being explored. Key Question: What should all of Us know as we face a disease with very limited treatment options today?
2:10-2:30 – BREAK
2:30–3:15 – TOWN HALL #2
Prioritizing Early Detection: What's Needed, What's Working, and How We Can Ensure Everyone Has Access
DESCRIPTION: Although Black and Latino older adults are more likely to develop Alzheimer's and dementia, diagnoses are more likely to be missed or delayed for people in these groups. Lumping together all people of color with a "one size fits all" approach is not the solution. These disparities stem from a complex set of factors including systemic racism, historic marginalization, cost, and more. Key Question: How can all of Us drive brain health awareness, risk reduction, and early detection--especially in Black and Latino communities?
3:15-3:30 – BREAK
3:30–4:15 -TOWN HALL #3
Beyond Contemplating the Challenge of Inclusion in Clinical Trials
DESCRIPTION: Clinical trials have traditionally fallen short when it comes to including people who are truly representative of the Alzheimer's population. Recently successful efforts, however, are dispelling myths about the inclusion challenge. For example, among the 389 participants in the Evaluating Minority Patients with Actemra (EMPACTA) study approximately 84% were from Black, Hispanic, Native American, and other historically underrepresented groups. Key Question: What strategies successfully recruit, enroll, and retain participants who represent all of Us, especially those disproportionately affected?
4:15-4:45 – Fireside chat with U.S. Representative Anna Eshoo (California) and George Vradenburg
4:45-5:00 – Day 1 Closing Remarks from Russ Paulsen
DAY 2 – Thursday, October 13, 2022
1:00-1:25 – Day 2 Summit Kick-off
Ken Dychtwald, PhD, Founder and Chief Executive Officer, AgeWave
1:25-1:30 – BREAK
1:30–2:15 – TOWN HALL #4
The Lifestyle Prescription: Delaying and Preventing ADRD through Behavior Change
DESCRIPTION: Research is clear that reducing modifiable risk factors such as obesity, physical inactivity, poor nutrition, hypertension, smoking, hearing loss, and loneliness could prevent hundreds of thousands of dementia cases, particularly among Black and Latino people. But scientific evidence isn't enough to motivate behavior change. Key Question: How do we move from science to systems with strategies and polices that ensure equitable impact for all of Us?
2:15-2:30 – BREAK
2:30-3:15 – TOWN HALL #5
Investments in Innovation: The Path to New Alzheimer's Treatments
DESCRIPTION: Identifying and investing in innovative, impactful therapies is only possible when leading scientists and entrepreneurs are connected and have access to capital. Leaders of influential global investment organizations with a venture-minded approach to drug discovery will discuss their perspectives, resources, and funding opportunities to support and accelerate Alzheimer's treatments. Key Question: What new drugs, technologies, and breakthrough innovations might benefit all of Us in the next 10 years, and how do we spark investment?
3:15-3:45 – Fireside chat with U.S. Senator Susan Collins (Maine) and George Vradenburg
DESCRIPTION: 2022 marks the 10th anniversary of the National Plan to Address Alzheimer's disease with the passage of the National Alzheimer's Project Act. Result of the commitment include funding has increased for research, care, and services. Cross-government coordination has improved. And the goal of stopping the disease by 2025 was established – and adopted globally. The anniversary gives us an opportunity to reflect on what has been accomplished as well as look at what NAPA can accomplish in the next decade.
3:45-4:00– National Alzheimer's Summit Closing Remarks from Russ Paulsen