Sheri S. - Our Nation's Future Depends on Help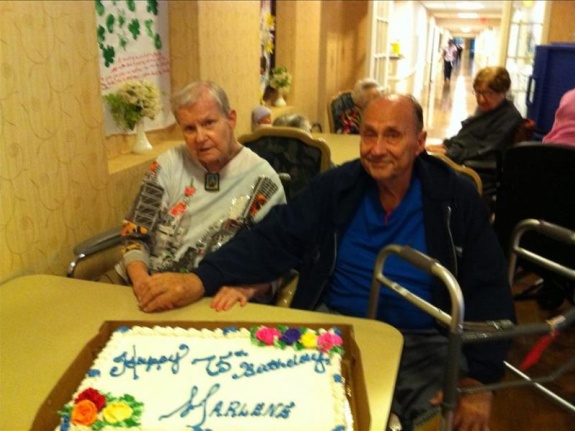 Alzheimer's is a cruel & tough disease due to the impact on the person, the family & caregivers. It wears you down, slowly takes away a loved one, steals your future & wipes out any financial security you may have in savings. A cure/prevention must be found or the impact to the American people will be devastating both emotionally & financially.
My mom has Alzheimer's. My aunt has Alzheimer's. An uncle died from Alzheimer's. Highly likely my grandmother had an undiagnosed dementia.
Mom is 75, in a nursing home for 3 years & is still the youngest long-term resident. We kept her at home for as long as we could, but for the safety & health of both parents we took the step my dad promised my mom he'd never do – put her in a nursing home. My aunt was in nursing homes & institutions in the 70's & 80's when facilities really were as depicted in 'One Flew Over the Cuckoo's Nest' & shock treatments were the norm. Although mom's nursing home is light-years better than what she witnessed, it's her worst nightmare come true.
Our journey with noticeable memory loss started in 1998; however the journey of anxiety, depression & mom knowing something was horribly wrong started 4 years before when she was in her mid-50's. My parents attributed the problems to pain (mom had scoliosis). I didn't understand the depth of her problems (she lived out of state) until she had a technically successful 17 hour scoliosis surgery here in Chicago & never "bounced" back. She had hallucinations & debilitating confusion for weeks. Finally, after several months of rehabilitation, my parents were ready to go back home (they lived with my husband & I while in IL).
While continuing her back rehabilitation, other problems became evident. She wasn't able to cook anymore or follow a simple recipe. The obsessively clean woman could no longer clean or straighten her house. A very social, extroverted person, her social life became non-existent. She had several driving incidents where she forgot where she was, where she was going & what to do next. Her personality started morphing into my dad's personality - he was a homebody, an introvert. She started having more anxiety, bouts of depression & slept a lot.
In 2000 my dad had open heart surgery in IL, so I took mom to our family physician for a complete physical. The doctor changed some medications, added Aricept (although said she didn't think mom had Alzheimer's) & suggested counseling to work thru the anxiety & depression. When they returned home, their doctor undid the medication changes without consulting me although I asked to be notified of any changes. He sent her for Alzheimer's testing. My parents told me everything came back normal & the doctor did not recommend counseling.
Her quality of life continued to degrade. Her back pain started again (not unexpected). Dad insisted all the problems were because of pain. In 2002 we revisited the neurosurgeon. Before another surgery, he recommended other options – we were all wary of the additional stress to mom's cognitive abilities. We also took mom for a geriatric evaluation. Although a complicated case, they were able to rule out other problems & determined she had mild dementia & meets the criteria for a diagnosis of possible Alzheimer's disease.
Four years after trying to get a diagnosis, we finally put a name to mom's illness. The puzzle pieces fell into place for my husband & I. Ironically, my dad still didn't comprehend or ""hear"" the diagnosis. I had to work with him & the medical community for several months before he'd believe his wife had Alzheimer's.
Reluctantly, he agreed to move back to IL so I could help during the progression of this disease. In hindsight, it turns out my dad's inability to comprehend the extent of mom's problems was a lot like codependence. He picked up the tasks, words & memories for my mom. He covered for her for many years without even realizing it. He also contributed to her anxiety & depression by insisting mom remember things because in his mind he was teaching her to use her memory again.
We (& the experts) learned a lot about Alzheimer's over the years. The most difficult thing for me to live with is my mom's experience was so gradual & slow that she knew something was wrong for many, many years. She cried out for help we could not provide. Had we been more familiar with dementia & tapped into resources like the Alzheimer's Association earlier, we might have prevented some of the trauma she experienced. At minimum we could have provided her with better palliative care.
No one else should have to experience what we have. Please support the Alzheimer's initiatives. We have to raise awareness, educate the "professionals" & find a cure/prevention for this illness. Now. Our nation's future depends on it.
Tags:
Sons and Daughters
Activists