Rick P. - Dog Wish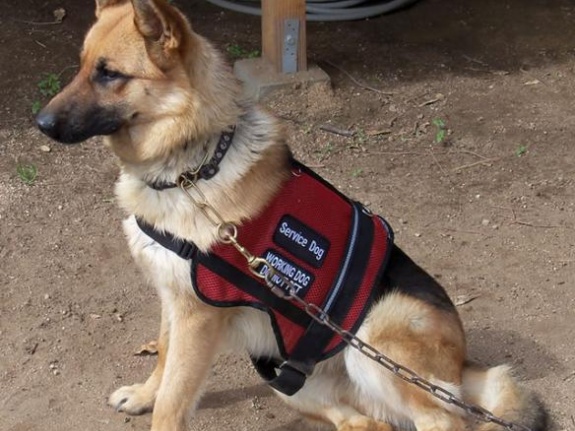 About a month ago, someone posted on Memory People about their Dad wanting a dog. Not just a dog, but a dog that could help her Dad in his daily routine of things. I was not sure what all that entailed, but it got me thinking. Could there be such a thing?
A dog that could help a dementia patient? So, I started searching. Surfing the web. To my surprise there are hundreds of businesses that indeed have "service dogs". Dogs that are trained. Not just in obedience, but trained for special needs people. I had long known about seeing eye dogs, but this was different.
These are canines that are trained to way beyond that. In my search, I stumbled upon a web site called "Dog Wish". It was out of California, but the site was so informative, I just had to call. My curiosity, got the best of me.
A gentleman by the name of Bob Taylor answered the phone. I was scared to death. What in the world was I going to say. I don't do well on the phone at all, now I have a total stranger on the phone, who I called, and asking me if he could help me.
I told him who I was and that I had seen his web site and I was very impressed with his knowledge and training ability. He began to ease my mind by telling me he had worked for LAPD, a brother in blue, if you will...and that he had trained hundreds of their canines for the Dept.
He also said he was contracted by several Countries overseas to train dogs for military, police, and personal protection. His credentials I found out later were impeccable.
I told him that I was diagnosed with EAOD two years ago, told him about MP, and that I was interested in information on if a dog could indeed be trained for a person with dementia.
To make a long story short. What this man does with dogs is unbelievable. I talked to his references which included but were not limited to the "Make A Wish Foundation", the LAPD, the Director of the Red Cross in California, just to name a few. Bob told me the cost, how they have programs to help clients raise the funds to pay for the service dog, and on and on.
We said our good-byes, and I asked if I may post his web site on Mp...he was delighted to have me do that. Which I did, and that basically was the end of it.
Three days later, I received a call from Bob. He had called me earlier and I left it go to voicemail, not really wanting to talk to him, trying to convince me this is what I need, and so forth. I felt bad not answering the phone, so I indeed called him back.
He started out with saying, "Is your wife on board with this? I said "On board with what?" He said, "On board with you getting a service dog." I said, "No. Its not about the dog, its about the price, as I told you the other day. When you are in a situation as we are in, as everyone who is diagnosed with this disease you are devastated financially. A service dog is just not in our budget. Not now, not ever."
He went on to tell me that if the finances is the only thing holding us back, its a done deal. I'm like, what does that mean. He said there has been an anonymous donor, who has already paid for my services, and the dog.
As I type this, tears are running down my cheeks. I of course took Bob to task, telling him we just could not except such a jesture. He assured me that this person wanted to do this. He said "Rick, they really want to do this for you. Its already taken care of. All you have to do is say yes.
I couldn't even speak. I can't hardly get through this posting about it. So, we are now and have been a client of Dog Wish. It took Bob three weeks to find our dog, which unbelievably was donated also, when they heard the story of what Bob was going to train the dog for.
The training is intense. Sam is just over a year old, German Shepard. He has had some formal training, but now he will go through 4 to 5 months of specialized training for my situation. These dogs are trained in 18 different levels, just to become a service dog.
We do not know the donor. I can tell you this. We will never be able to thank them enough. Never. This will be life changing. This will give me back some freedom. Sam will be trained to know when I am upset, or something is wrong, he will know when I feel lost, when I feel closed in.
He will give me a chance to be normal, or as normal as can be expected. I will be posting pictures of Sam here, for everyone to see. We love him, and haven't even met him yet. We bought him his working vest, which you can see...the first gift from Dad and Mom.
I cannot tell you how grateful, and thankful we are. For Bob, being so professional, when we first talked, to the profound action of both donors. God is at work here.
http://whileistillcan.net/
Tags:
People with Alzheimer's
Activists