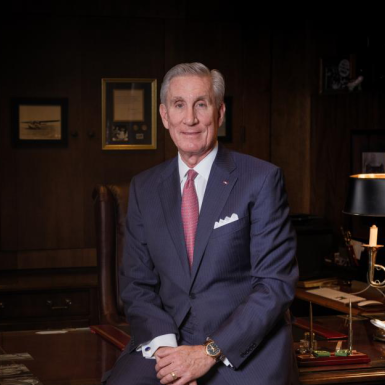 Peter S. Cooke
Advisory Committee Member, VeteransAgainstAlzheimer's
Mission President, Washington D.C. North Mission for The Church of Jesus Christ of Latter-day Saints;
Candidate for Governor of Utah;
Major General (retired) U.S. Army Reserves;
CEO/owner of real estate development business;
Director of Utah Economic Development.
Family Life and Education
Peter was born in Miami, Florida. He grew up in a small family with one brother, and received a global education while his father worked for Pan American Airlines, attending schools in New Jersey, Florida, Thailand, Puerto Rico and Germany, where he graduated from Frankfurt American High School in 1967.
Peter came to Utah to attend Utah State University's forestry program. Instead, Peter earned a Bachelor's degree (1971) and a Master's degree (1973) from USU in Political Science. In addition to his USU degrees, Peter graduated from the Army War College in 1999.
Military Career
Peter served in the Army Reserve from his graduation from USU in 1971 with a regular Army commission to 2009 when he retired as a 2-Star Major General.
Commanding General, 96th RRC
Peter was Commanding General of the 96th Regional Readiness Command from 2005 to 2009.
He rose to the Rank of Major General during his 39-year career in the Armed Services. In his duties as Commanding General of the 96th RRC, Peter organized and prepared for mobilization 10,000 soldiers and
civilians spread across four subordinate commands. Peter's Command spanned seven states including Colorado, Montana, North and South Dakota, Wyoming, California and Utah, making it the largest geographical Command in the Army Reserves.
Peter's Command included 66 Army Reserve Units that could be mobilized for wartime missions, maintenance and supply activities; 560 full-time personnel; 40 command centers; and 13 maintenance and storage facilities with property valued at $250 million and equipment valued at $224 million. Peter's Command had an annual operating budget of $29.6 million.
Peter's rallying cry for the troops in his Command, "Dead-eye: Ready!" has been adopted by battalions across the world.
Army Community of Excellence Award and Distinguished Service Medal
In 2009, Peter won the Army Community of Excellence Award for the best managed command in the U.S. Army Reserves. This award earned his Command $750,000.
General Cooke, was also awarded the United States Army Distinguished Service Medal in 2009.
Armed Reserve Forces Policy Committee (ARFPC)
From 2001 to 2009, Peter served on the Armed Reserve Forces Policy Committee (ARFPC), holding the Chair position from 2007-2009. ARFPC reviews and comments on policy matters directly affecting the Reserve Component (RC) of the Army. ARFPC's comments accompany any final reports submitted to the Vice Chief of Staff of the Army (VCSA). Through his work with ARFPC, Peter developed close working relationships with the highest-ranking officials in the Pentagon, including the Secretary of the Army.
Veterans' Needs
Since his retirement from the Army Reserve in 2009, Peter has been an advocate for veterans' needs, founding Partnership with America and serving as the director of the National Center for Veterans Studies. These organizations specialize in human capital management for veterans and in helping veterans' transition into the civilian workforce. Peter also founded the Employer Partnership Initiative, which assists reservists and veterans in securing jobs after mobilization to war.
Business and Entrepreneurial Career
Peter has been an entrepreneur for 31 years, pioneering public-private partnerships and founding and leading real estate ventures that provide affordable housing.
Peter was the CEO of PSC Military Housing Company, which specialized in creating public-private partnerships between developers and military bases and in supporting the U.S. Air Force in its private-housing initiative.
Under his direction as CEO, PSC Military Housing was awarded projects at 12 military bases involving over 11,000 housing units. The value of these projects exceeds $1 billion. Peter also served as a consultant to MWH Americas, Inc., where he specialized in the privatization of military housing.
Peter is currently the CEO of PSC Development Company and Evergreene Management Group, which specialize in developing, financing and constructing single- and multi-family housing units in the Western United States, and in managing these assets.
Under Peter's leadership, PSC Development Company and Evergreene Management Group have developed and managed projects exceeding $550 million in value, including Olympic Housing in 2002 and the restoration of historic housing at Fort Douglas.
Peter is a small business owner himself, and as such, has served in both Director and Board Member capacities for several organizations aimed at encouraging small business growth. Peter directed the Utah State Economic Industrial Division under former Governor Scott Matheson, and was largely responsible for the genesis of what is now the Sundance Film Festival.
He also was Director of Government Affairs for the Salt Lake Chamber of Commerce and Director of Deseret Certified Development Company, where he financed small business loans to promote local economic growth.
Peter served on the National Board of Directors for the Small Business Administration (SBA).
Affordable Housing Initiatives
Peter was a Board member for Housing Corporation of America, a non-profit that assisted in the development of affordable housing.
For his continued advocacy for affordable housing, and successful career in supporting housing initiatives at military bases across the West, Peter received a Lifetime Achievement Award from the Utah Apartment Association in 2011.
Political Experience
Peter is not a newcomer to politics:
As a student in 1969, Peter established Utah Vote, an effort aimed at encouraging and registering college students to vote.
Peter was an assistant for Utah Congressman Gunn McKay from 1973-1974 and an assistant for U.S. Senator Frank E. Moss from 1974-1975.
In 1977, Peter established a Focus, a lobbying and political consulting company.
Peter ran for U.S. Congress in 1978 with the Democratic Party.
Most recently, Peter ran for Governor of Utah in 2012.