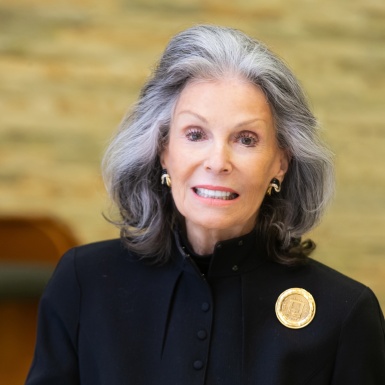 Meryl Comer
Founding Board Member
Meryl Comer is a Co-Founder of UsAgainstAlzheimer's; WomenAgainstAlzheimer's; UsAgainstAlzheimer's representative of the Global BBP BrainTrust; Vice Chairperson, WHAM (Women's Health Access Matters).
For more than a decade (2007-2019), Meryl served as President and CEO of the Geoffrey Beene Foundation Alzheimer's Initiative, a catalyst funder targeting early diagnosis through spirited public engagement campaigns, early assessment technologies, support of the first "virtual registry", and pre-clinical AD research to modify disease risk. She served on the NIH National Advisory Council on Aging (NACA) from Sept 2018-Jan 2022. In 2012, she led the formation of the 21st Century BrainTrust® (21CBT), a non-profit partnership to advance mobile health technologies and brain health. Comer was also Co-Principal Investigator for the PCORI Alzheimer's Patient/Caregiver Research Network in partnership with the Mayo Clinic, UCSF's Brain Health Registry, and UsAgainstAlzheimer's.  In 2009, she served on the bi-partisan Alzheimer's Study Group, charged with presenting a National Strategic Plan to Congress. A former veteran broadcast journalist, 100% of Meryl Comer's New York Times bestseller, "Slow Dancing with a Stranger" (HarperCollins), supports Alzheimer's research.
Bucket list item: Travel the world
A woman is like a teabag. You never know how strong she is until she's in hot water.
Eleanor Roosevelt
Meryl's Story
Two decades ago I would never have imagined myself still on the Alzheimer's journey, but here I am. There is no way for me to escape the disease because it fills my life 24/7 caring at home for both my husband and my mother. What is most important to share is that it was the trustee of the Geoffrey Beene Foundation, Tom Hutton, who recruited and believed in me enough to support a new foundation around early AD diagnosis that over the years has become critical to prevention research. Any awards I've received are a tribute to what philanthropy enabled me to do. The other personal transformation occurred when I teamed up more than a decade ago with George and Trish Vradenburg as tireless AD advocates and close personal friends.
There is no question that being an advocate has saved my life. Join US.