Community leaders driven by passion and purpose to stop Alzheimer's.
About Us
We are people living with Alzheimer's or other dementias, and care partners from across the country who are on the front lines of fighting this disease. We work tirelessly in our communities to create new approaches to finding a cure, supporting those living with Alzheimer's and their families, and demanding action to stop Alzheimer's.
Strategy
We advocate for cutting-edge solutions to improve Alzheimer's care and accelerate research. We draw on our experiences as individuals from diverse backgrounds living with Alzheimer's and other dementias, as care partners, and as family members to demand and implement innovative initiatives for care and a cure in our communities, nationwide and online.
We write, speak, advise, organize, and advocate to ensure that the voices of those living with dementia and care partners are central to key decisions made by policy makers, researchers, and industry. We tell our stories to bring this devastating disease out of the shadows and improve the lives of those living with Alzheimer's and other dementias and their families. We are driven by the struggles of our own families and the millions of Americans touched by this disease, and by the optimism that it can and will be defeated.
Leaders
Member
Background
Location
Jane Bandler
LCPC (retired) Caregiver 2008-2017
Bethesda, MD
Carol Bradley Bursack
Author, columnist, and writer, "Minding Our Elders", Moderator, UsA2 Facebook Caregiver Support Group
Fargo, ND
James Creasey

Founder and CEO,
Jiminy Wicket Foundation

Denver, CO

Michael Ellenbogen

Living proudly with Dementia

Jamison, PA

Lynda Everman

Founder, WomenAgainstAlzheimer's
Founder, ClergyAgainstAlzheimer's
Alzheimer's Semipostal Advocate

Birmingham, AL

Terry Frangiosa

Principal Investigator,
UsAgainstAlzheimer's A-LIST

Harleysville, PA

Karen Garner

Author, "Missing Jim"
Alzheimer's Caregiver Consultant

Virginia Beach, VA

Lisa Hirsch

Author, My Mom My Hero
Founder, Alzheimer's: My Mom My Hero website


New York, NY
Lori LaBey

30-Year Care Partner
Founder, Alzheimer's Speaks

Maplewood, MN

Marie Marley, PhD

Co-Author, Finding Joy in Alzheimer's: New Hope for Caregivers


Kansas City, KS
Ann Napoletan

Co-Author, Founder, Marilyn's Legacy, Founder, UsA2 Facebook Support Group


Columbus, OH
Daniel C. Potts, MD, FAAN

Founder, Cognitive Dynamics Foundation

Tuscaloosa, AL

Ellen W. Potts, MBA

Founder, Dementia Dynamics, LLC

Tuscaloosa, AL

Jessica Price-Parrott

Moderator, UsA2 Facebook Caregiver Support Group

Lincoln, NE

Hailey Richman

Founder, KidCaregivers.com
Associate Director, Puzzles to Remember

New York, NY

Susan Kiser Scarff

Author, Dementia: The Journey Ahead, A Practical Guide for In-Home Caregivers
Founder, Dementia: The Journey Ahead Facebook Support Group

Phoenix, AZ

Kathy Siggins

Alzheimer's Semipostal Advocate & Former Caregiver

Mount Airy, MD

Allan S. Vann

Author, "Reflections of an Alzheimer's Spouse"

Commack, NY

Loretta Woodward Veney

Being My Mom's Mom & Refreshment for the Caregiver's Spirit
Moderator, UsA2 Facebook Caregiver Support Group

Clinton, MD
"A cure for Alzheimer's: a fantasy, a wish, an impossible dream—the same words that were said to Galileo, Edison, Curie, Salk, and whoever dreamed up the internet. Yesterday's dream is today's reality."

Trish Vradenburg

Co-Founder, UsAgainstAlzheimer's
UsA2's series "Giving Voice to What Matters Most" features the stories of people who are living with dementia or at high risk for the disease. Tracey Lind, Daisy Duarte and Greg O'Brien met by Zoom to talk about issues that are important to them.
Giving Voice to What Matters Most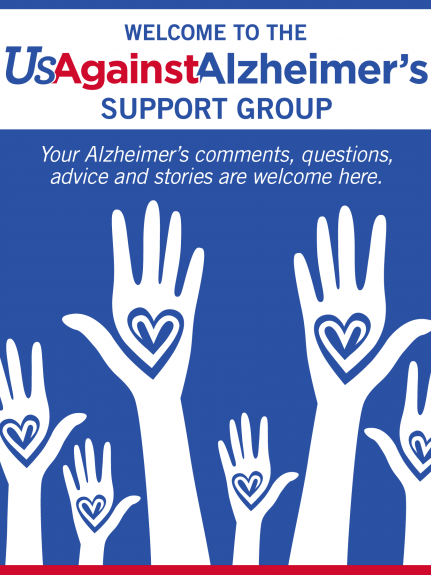 Caregiver Support