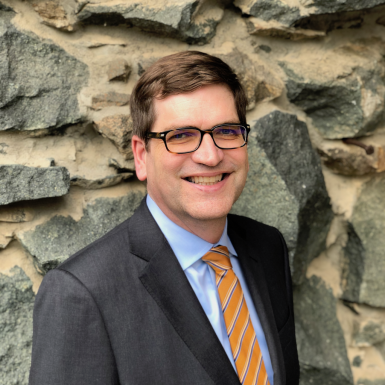 Russ Paulsen
Chief Operating Officer
Russ Paulsen is a nationally recognized nonprofit leader and innovator. Under his leadership, a series of nonprofit programs and teams have saved hundreds of lives, helped rebuild and heal communities across the nation, and brought cutting-edge technology to public health and human services.
Russ joined UsAgainstAlzheimer's as chief operating officer in 2019. Since then, the organization built a web and telephone platform that delivers information tailored to where a specific user is on their Alzheimer's journey; received its first-ever funding from the Centers for Disease Control and Prevention; and assembled a 100-organization coalition to set a national Alzheimer's risk-reduction goal.
Prior to joining UsAgainstAlzheimer's, his team at the American Red Cross built a campaign to reduce deaths from home fires; it has saved more than 1200 lives since its launch and made 960,000 high-risk homes safer through smoke alarms and fire escape plans. More than 1.7 million kids have learned about fire safety through classroom presentations and an award-winning videogame designed by his team. And in the aftermath of Hurricane Katrina, in addition to rebuilding thousands of homes, Russ led a Red Cross team that helped rebuild the mental health system of coastal Louisiana and Mississippi through targeted grants and a system of treatment reimbursement that created an economic incentive for small providers to return.
Russ's career in helping began with an earthquake in the San Francisco Bay Area, when he felt compelled to drop what he was doing and volunteer.
Bucket list item: Travel somewhere interesting and stay in one place for a month
Favorite Book: Good to Great