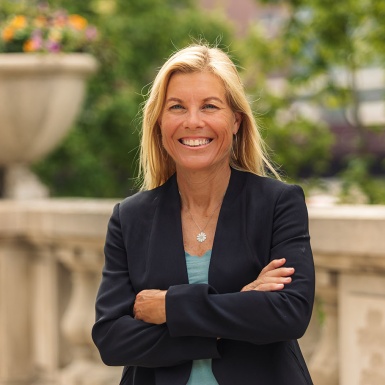 Kelly O'Brien
Vice President, Prevention; Executive Director, Brain Health Partnership
Kelly O'Brien is Vice President of Prevention and the Executive Director of the UsAgainstAlzheimer's Brain Health Partnership (BHP). BHP is a comprehensive initiative to promote brain health and improve early intervention. In these roles, she is the strategic lead and director of the team implementing the early intervention and brain health program.
A change catalyst, Kelly's unique combination of leadership, strategy, community engagement, partnership development, project management, sales/fundraising, and communications skills have resulted in an impressive record of raising the profile and impact for many organizations and initiatives.
Before joining UsAgainstAlzheimer's, Kelly was a founding Executive Director of The Kennedy Forum Illinois, a mental health initiative led nationally by former Congressman Patrick Kennedy. Her service history includes leadership positions in the public, nonprofit and private sector, including CEO of the social impact consultancy Ideaction Corps, public health advisor to Senator Richard Durbin, Senior Legislative Aide to Congressman Jerry Kleczka, Director of Government Affairs for Partnership for Prevention, Associate Executive Director for the American Public Health Association, Congressional Liaison for the Director of the Centers for Disease Control and Prevention, Vice President at Wilhelm & Conlon Public Strategies, Executive Director of Girls on the Run Chicago, VP of Corporate Partnerships and Marketing at United Way of Metro Chicago.
Bucket list item: Swim at Bondi Icebergs
Favorite book: Love in the Time of Cholera
What you see is what you see
Frank Stella