UsAgainstAlzheimer's Center for Brain Health Equity
A hub for mobilizing health providers and communities to build brain health equity for women and people of color.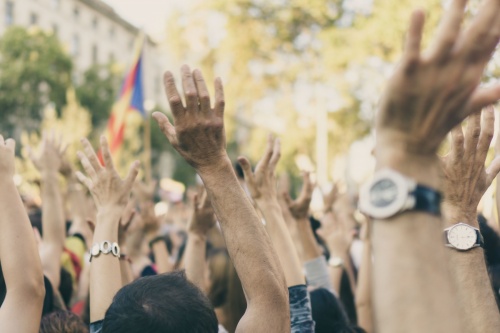 Centering Equity and Data-Driven Strategies to Promote Brain Health
Alzheimer's disease disproportionately affects Latinos, Black Americans, and women. As our nation ages and becomes more diverse, we must accelerate efforts to promote brain health across the lifespan through culturally tailored, data-driven public health strategies and partnerships.
The UsAgainstAlzheimer's Center for Brain Health Equity is a hub for collaboration focused on:

Educating and mobilizing minority serving health providers
Making culturally tailored brain health messaging and resources accessible to communities of color
Empowering community partners and policymakers with public health data on brain health inequities

We do this work in partnership and collaboration with:
Our work is made possible by a cooperative agreement with the Centers for Disease Control and Prevention's (CDC) Healthy Brain Initiative.
For more information about CDC's Health Brain Initiative, click here.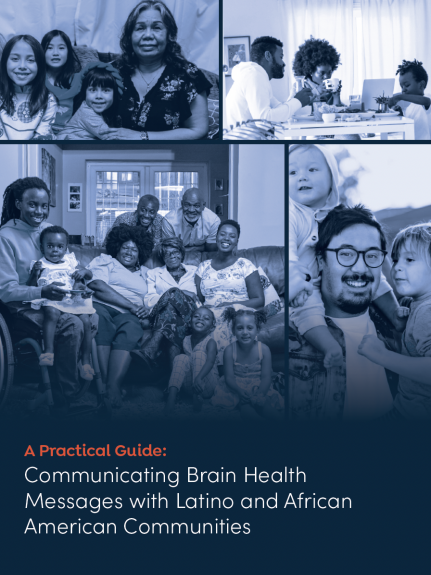 Access Our New Practical Guide on Culturally Tailoring Brain Health Messaging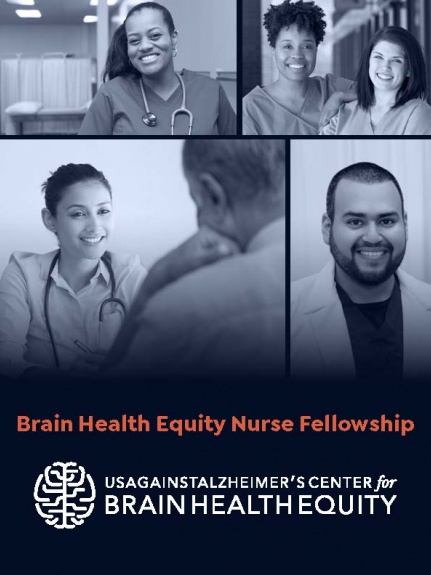 Learn About Our Brain Health Equity Nurse Fellowship
Celebrating One Year of Brain Health Equity Impact 
Our data-driven efforts have narrowed equity gaps in access to brain health education, health services, research and care – all while raising the visibility of the impacts of brain health inequities on families and communities. These accomplishments include: 
Launching the Center for Brain Health Equity with partial financial support from the Centers of Disease Control and Prevention (CDC), reaching 700,000 Black and Latino individuals with tailored brain health messaging in year one. 

Profiling – for the first time – the socioeconomic profiles of the 25 counties with the highest burden of Alzheimer's among Latinos and Black Americans, making this data publicly available through a new interactive mapping platform: www.BrainHealthData.org 

Bringing together more than 200 diverse organizations and leaders in support of a national Prevention Goal for Alzheimer's disease and related dementias. 

Catalyzing $9 million in brain health equity investments in communities hard hit by Alzheimer's disease. 
Our Advisory Board
The Center's work is guided by an interdisciplinary Advisory Council of health disparities experts, public health leaders, caregivers, and community advocates.
David Satcher MD, PhD | Founding Director & Senior Advisor | Satcher Health Leadership Institute
Richard H. Carmona MD, MPH, FACS | 17th Surgeon General of The United States: Chief of Health Innovations, Distinguished Professor | University of Arizona
Yvonne Latty | Director, Reporting New York & Reporting the Nation | NYU Carter Journalism Institute
Adriana G. Perez PhD, ANP-BC, FAAN, FGSA | Assistant Professor of Nursing Senior Fellow | National Association of Hispanic Nurses
Goldie S. Byrd PhD | Director, Maya Angelou Center for Health Equity | Wake Forest Baptist Medical Center
Daisy Duarte | Caregiver & Advocate | Latinos Against Alzheimer's Network
David X. Marquez PhD, FGSA, FACSM, FSBM | Professor | University of Illinois at Chicago Department of Kinesiology and Nutrition/Rush Alzheimer's Disease Center
Angela Allen PhD | Clinical Instructor | Arizona State University
Loretta Woodward Veney | Caregiver Advocate | African Americans Against Alzheimer's; Being My Mom's Mom (book/speaker); UsA2 FB care group
William A. Vega | Emeritus Provost Professor; Executive Director, USC Roybal Inst on Aging | USC 
Maria P. Aranda PhD, MSW, MPA, LCSW | Director | USC Edward R. Roybal Institute on Aging 
Jaime Perales Puchalt PhD, MPH | Assistant Professor | University of Kansas Alzheimer's Disease Center
Maria Pinzon, MD, MS | Post-Doctoral Research Fellow, Department of Family Medicine and Community Health; Assistant Scientist, Department of Medicine | Wisconsin Alzheimer's Institute
Kina L. White, DrPH, MHSA, FACHE | Director, Office of Community Health Improvement | Mississippi State Department of Health
Become part of our network and help us continue to build brain healthy communities for all.
Join the Movement