Brain Health Equity Nurse Fellowship
Our Vision: Empower nurses with the knowledge and public health leadership skills needed to promote brain health in communities with a high risk for Alzheimer's and related dementias.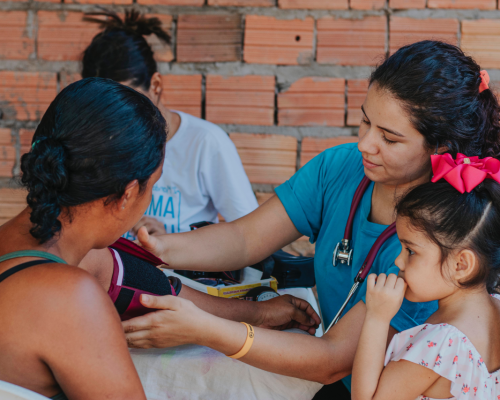 Background
What is Brain Health? According to the Centers for Disease Control and Prevention (CDC), brain health refers to the ability to draw on the strengths of the brain to remember, learn, play, concentrate, and maintain a clear, active mind.
The UsAgainstAlzheimer's Center for Brain Health Equity (the Center) is now accepting applications for its inaugural Brain Health Equity Nurse Fellowship program. We designed the Fellowship to address brain health and Alzheimer's disease and related dementia (ADRD) knowledge gaps among African American and Latino nurse professionals, so they are better equipped to promote brain health in the communities they serve. Our goal is to develop community health leaders who are motivated and prepared to promote brain health equity in their communities. The 2022 cohort will be June 1 – December 31. More details here.
The Fellowship program is designed to achieve the following objectives:
Improve Knowledge:

Provide you with tailored continuing education on Alzheimer's and related dementias to address brain health knowledge gaps.

Cultivate Leadership:

Provide you with the leadership skills and content needed to promote tailored brain health education among your peers and in your community.

Facilitate Networking and Linking:

Connect you to a national network of nurses and experts working at the intersections of brain health, public health, and health equity to create opportunities for collaboration, knowledge sharing, and linking of local resources.
We developed the Fellowship in partnership with the National Black Nurses Association (NBNA) and the National Association of Hispanic Nurses (NAHN) and an interdisciplinary network of subject matter experts.
| | |
| --- | --- |
| | |
| | NBNA's mission is to provide a forum for collective action by African American nurses to represent and provide a forum for black nurses to advocate for and implement strategies to ensure access to the highest quality of healthcare for persons of color. Learn more here. |
| | NAHN is committed to advancing the health in Hispanic communities and to lead, promote, and advocate the educational, professional, and leadership opportunities for Hispanic nurses. Learn more here. |
Our Selection Criteria
What are we looking for?

Candidates who…
have a demonstrated interest in addressing health inequities within their community

a registered nurse or enrolled in a nursing education program

a current, in-good-standing member of EITHER the National Black Nurses Association (NBNA) and/or National Association of Hispanic Nurses (NAHN)

have demonstrated an interest in public leadership, speaking, and outreach
Fellowship Benefits
Complimentary training from nationally recognized public health leaders

Continuing Education (CE) credits

Training to strengthen your leadership and public health skills

Opportunity to network with experts across nursing, health equity, and aging science and policy fields

National and local recognition opportunities showcasing your work

A $2,000 stipend to support your participation in the Fellowship
The Stipend
You will receive an educational stipend of $2,000 in installments, disbursed after the completion of the following milestones:
Brain Health 101 course - $500

Leadership and networking initiatives/activities - $500

Community conversation - $500

Final evaluation interview and survey -$500
Application Requirements
The following items are required for submission for an application to be considered complete:
Online application

Current resume/CV

Letter of endorsement from local NBNA/NAHN chapter (optional)
Questions? Reach out to Daphne Delgado, Project Director at ddelgado@usagainstalzheimers.org.
Apply to the Brain Health Equity Nurse Fellowship
Deadline: May 15, 2022
Fellowship Requirements
All Fellows are expected to complete the Fellowship requirements below by Dec. 31, 2022, with an estimated total time commitment of approximately 15-20 hours.
Education Workshop Participation and Prep (1 hour total)
Brain Health 101 workshop (1 hour; online; eligible for continuing education credits; scheduled for June 15th at 1pm Eastern but will be available to watch through mid-August)
Leadership Development and Brain Health Promotion (11 hours total)
Leadership training workshop (1.5 hours; online; will be scheduled at a time when most participants are available)

Brain health conversation planning (2 hours)

Host one brain health conversation to reach at least 20-25 peers in your community; conduct post-survey of all session participants (2 hours)

Promoting educational resources to your local communities via social media and traditional media (3-5 hours spread throughout the fellowship)
Networking (2-4 hours)
Engagement in 1-2 networking sessions with national experts (online; will be scheduled at a time when most participants are available)

Optional engagement at NAHN and NBNA conference events (2 hours)
Contribute to Evaluation Efforts (1 hour)
Pre and post surveys (15 minutes)

Stakeholder interview (45 minutes)
Acknowledgements
This program is supported by the Centers for Disease Control and Prevention of the US Department of Health and Human Services (HHS) as part of a financial assistance award (1NU58DP006781) totaling $600,000 with 100% funded by CDC/HHS. The contents are those of UsAgainstAlzheimer's and do not necessarily represent the official views of, nor an endorsement by, CDC, HHS or the US Government.
Apply to the Brain Health Equity Nurse Fellowship
Deadline: May 15, 2022