Call for a National Alzheimer's Prevention Goal
Cognitive decline is not inevitable. It is time we aim to prevent it.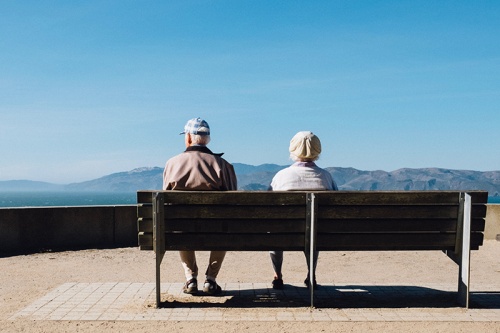 Prevention Goal Petition Call to Action Statement Press Release
The United States should set an ambitious national goal to prevent Alzheimer's disease and related dementias.
It is time to replace despair and disappointment with determination and hope. It is time to show there are steps that our nation can take to reduce the risk of Alzheimer's and dementia, delay onset, and promote brain health. And most importantly, it is time to rally Americans to take action.
Alzheimer's disease is a public health crisis that is expanding as our nation ages, with a projected increase to nearly 14 million people in the U.S. with the disease by 2050. Communities of color and women bear a disproportionate burden. Without early intervention and treatment, the cumulative care costs are projected to exceed $20 trillion over the next 30 years.
Click here to see the growing number of experts and organizations who agree that it is time for an accountable plan.
Additionally, several U.S. Senators and House Representatives have also urged the Department of Health and Human Services (HHS) to establish an national prevention goal.
Learn More
Rapidly advancing science points to the ability to reduce dementia risk and slow the rate of cognitive decline as we age. Efforts to advance Alzheimer's disease and related dementias (ADRD) risk reduction strategies and prevention research would be greatly bolstered by the visibility and accountability of a measurable, time-bound national goal.
Nancy Brown CEO American Heart Association

Heart and brain health are closely connected, and essential to living a long and full life. Up to 80% of brain disease can be linked to cardiovascular disease – the leading cause of death in the US. Through our work, we know that what's good for the heart is good for the brain. That is why, on behalf of the American Heart Association, we support an ambitious national goal to prevent Alzheimer's disease and related dementias.

George Vradenburg chairman and co-founder of UsAgainstAlzheimer's

Our nation cannot waver from its drive to find effective therapies and cures for Alzheimer's disease and related dementias, but we also must give greater emphasis to reducing risks of getting Alzheimer's in the first place.

Jo Ann Jenkins AARP CEO

At AARP, with our 38 million members age 50 and older, we know we can't simply sit back and wait for a cure. We need to work to reduce risks now, improve care and help people keep their brains healthy while they age.

Nora Super executive director of the Alliance to Improve Dementia Care and senior director of the Milken Institute Center for the Future of Aging

We know that dementia is not an inevitable part of aging, and emerging evidence shows that there many things we can do to promote brain health and reduce the risk of Alzheimer's disease and related forms of dementia. The Milken Institute Center for the Future of Aging strongly supports a time-measured goal aimed at preventing dementia.

Dr. Veronica Bordes Edgar PhD, ABPP, President of the Hispanic Neuropsychological Society and Associate Professor of Psychiatry and Pediatrics at the University of Texas Southwestern Medical Center

With Latinx individuals being one and half times more likely to develop Alzheimer's than non-Hispanic/Latinx whites, we must take bold action to address disparities in Alzheimer's impacting our nation's 55 million Latinx families. Tailored Alzheimer's prevention and brain health promotion strategies are critical to better public health and reduction of health disparities.

Kevin Washington president and chief executive of YMCA of the USA

As an organization committed to strengthening individual and community well-being, the Y understands the power of prevention to save lives and enrich quality of life. We're proud to stand with our partners in this coalition and call attention to the critical importance of physical activity to slowing cognitive decline and preventing and controlling dementia.

Sally Greenberg executive director of the National Consumers League

Many patients are not aware that Alzheimer's is not an inevitable outgrowth of the aging process and can be addressed through awareness and strategic prevention and intervention tactics that aim to reduce cognitive decline. Alzheimer's remains one of the most underfunded and underdiagnosed chronic illnesses, despite having devastating effects equivalent to that of cancer or diabetes, and NCL supports national efforts to provide consumers and patients with resources and information on the risks to developing Alzheimer's and strategies to help aid prevention.

Dr. David Satcher a former U.S. Surgeon General and former director of the Centers for Disease Control and Prevention

Establishing a national, measurable dementia prevention goal is a good idea. Efforts to reduce the risk of Alzheimer's and related dementias should be closely aligned with other public health efforts to combat obesity, cardiovascular disease, diabetes and other chronic conditions that share the same risk factors disproportionately impact communities of color.

Kathleen Sebelius a former secretary of the Department of Health and Human Services

The United States is not good at prevention strategies; we are better at dealing with a crisis at hand than a looming crisis on the horizon such as the growing number of Americans with Alzheimer's and dementia. It is so important to have a tangible goal that is both aspirational but also can be realistic; to have milestones and metrics to reach that goal and to drive resources, energy and talent to that end.
Load more quotes
Calling for Action on a National Prevention Goal
UsAgainstAlzheimer's and the Alzheimer's Association sent a letter to Health and Human Services Secretary Xavier Becerra urging him to update the National Alzheimer's Project Act plan with a sixth pillar focused on the prevention of Alzheimer's and related dementias through risk reduction.
National Prevention Goal Activities and News