COVID-19 Impacts Increasing on People Living with Alzheimer's in Nursing Homes and on their Families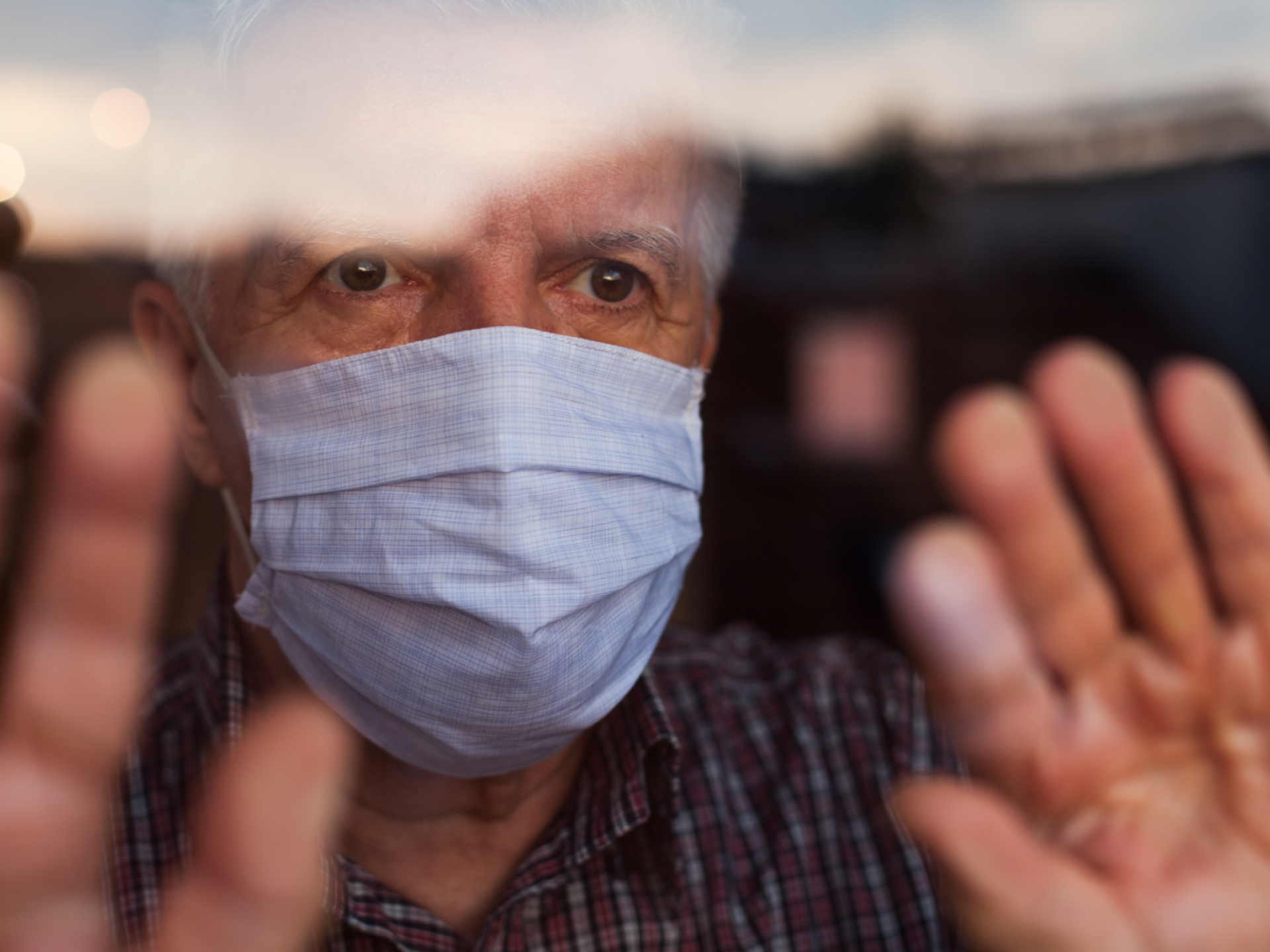 The ongoing coronavirus pandemic and restrictions in nursing homes and other long-term care communities are beginning their fifth month as COVID-19 cases are growing again nationwide and concerns are increasing about loved ones with Alzheimer's or another dementia after a long period of isolation.
The fourth UsAgainstAlzheimer's A-LIST® survey of people living with a diagnosis, current and former caregivers, and others, showed that visitor restrictions in nursing homes and other long-term care communities made assessing the health of a family member with dementia much harder.
State data reports showed that nearly 40 percent of COVID-19 deaths come from nursing homes and other assisted living communities. And with nearly half of all long-term care facility residents living with Alzheimer's or another dementia, individuals with the disease have become one of the most disproportionately vulnerable groups in the country.
And COVID-19's toll on the Alzheimer's community may be even worse than previously expected. The Wall Street Journal has reported that at least 15,000 more Americans have died in recent months from Alzheimer's disease and dementia than otherwise would have, health officials believe, pointing to how the coronavirus pandemic has exacted a higher fatality toll than official numbers have shown.
The paper reported that as COVID-19 devastated older Americans this spring, often by racing through nursing homes, the deadly outbreaks compounded the devastation of Alzheimer's and other forms of degenerative brain disorders that are common among elderly residents in long-term care facilities. Roughly 100,000 people died from Alzheimer's and dementia from February through May, the U.S. Centers for Disease Control and Prevention estimates. Although not all the extra deaths were directly caused by the coronavirus, that fatality rate is 18 percent higher than average for those disorders in recent years.
This news will only add to the stress and concern of families with loved ones who have Alzheimer's or a related dementia in a nursing home or another long-term care community.
The June A-LIST survey included responses from 34 caregivers who had loved ones with Alzheimer's or another dementia in assisted living facilities. These family caregivers experienced high stress levels because of visitation restrictions and challenges getting information about their loved one.
While risks of COVID-19 are high in nursing homes and long-term care communities, the challenges are even greater for patients with Alzheimer's or another dementia. That's because most of these nursing home patients with dementia were no longer able to have families or caregivers visit them and assess their health.
More than 9 in 10 of these caregivers said they were unable to see their loved one because of virus-related visitation restrictions in the long-term care communities. More than two in three (68 percent) said their stress levels were higher than before the COVID-19 pandemic, with widespread concern (85 percent) about their inability to know/accurately assess health status (85 percent).
"My mom went on hospice care and has stopped engaging and refuses care," one caregiver wrote. "Will she remember me? Does she feel alone and deserted?"
"My mother feels abandoned, scared, and confused and I cannot be there to help," a caregiver wrote.
The survey found that 50 percent of respondents said they had heard of cases of COVID-19 in the long-term care community where their loved one was at the time of this survey (June 9-14). That rate is up 19 points from the May survey and nearly three times higher than April.
The June survey results showed that virtually all (94 percent) of the 34 respondents with loved ones in facilities supported requiring COVID-19 testing of all nursing home residents and staff. UsAgainstAlzheimer's has called on the federal government and the nation's governors to require COVID-19 testing for all residents and staff at nursing homes and long-term care communities.
Less than half (47 percent) of these caregivers said their loved one in a nursing home or long-term care community had been tested for COVID-19, with a third (35 percent) saying no test has been done and 18 percent saying they did not know.
The June survey asked what kinds of safeguards caregivers were willing to consider in order to visit their loved one in a long-term care community. Nearly all (94 percent) were willing to wear personal protective equipment such as face masks, and three in four (74 percent) were willing to practice social distancing during a visit. About six in 10 (59 percent) said they were willing to get tested for COVID-19 before visiting, and 59 percent were interested in video visits as an alternative to in-person visiting.
"I would prefer a normal visit because my loved one is human and needs her basic needs met of touch and seeing a face, not an astronaut-looking body but I would be willing to do just about anything to visit before she dies," one family caregiver wrote.
Survey Methodology: The survey, taken June 9-14, 2020 by the UsAgainstAlzheimer's A-LIST®, had 682 responses overall from people living with Alzheimer's or another dementia, current and former caregivers, people with significant likelihood of developing the disease, and those interested in brain health. Of the total respondents, 682 described their status. Current caregivers were the largest group with 190 responses. Of the 176 caregivers completing the survey, a subset of 34 respondents said they had a loved one in an assisted living facility.  This research is overseen by an Institutional Review Board (IRB.) 
The UsAgainstAlzheimer's COVID-19 survey series is supported in part by the Eisai USA Foundation, naviHealth and Biogen, with research support from Home Instead Senior Care and Cohen Veterans Bioscience. 
About the Author