Brain Health Equity Insights - May 2019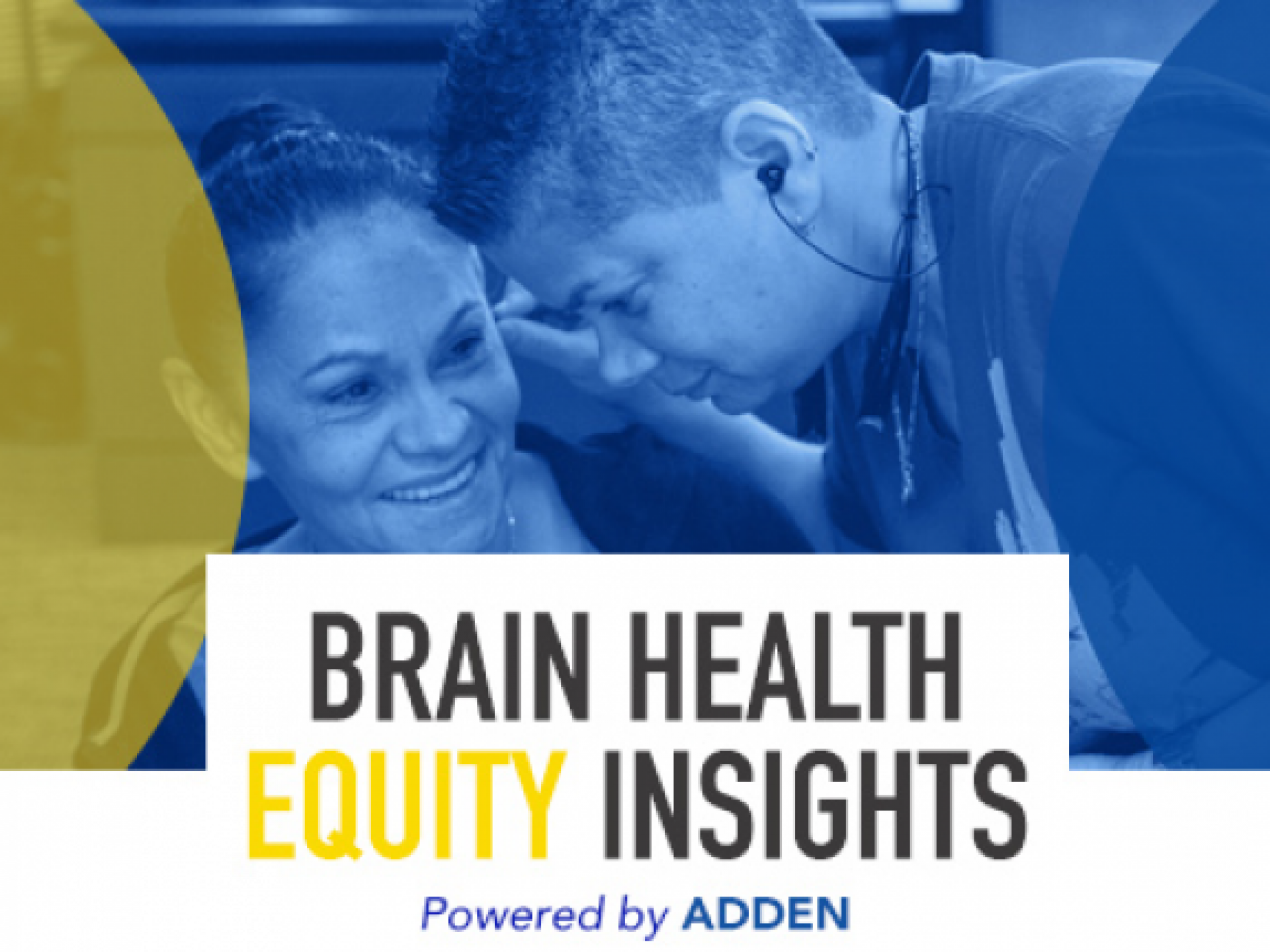 A Note from UsAgainstAlzheimer's
Dear Network Members, Coalition Partners, Colleagues, and Friends,

We're thrilled to bring you the second edition of Brain Health Equity Insights, a platform that highlights UsAgainstAlzheimer's (UsA2) intersectional approach to understanding and addressing brain health disparities through community engagement, research, health practice, and policy.

Over the past few months, our focus has been on building out the learning network and putting equity and access front-and-center in our national conversation on Alzheimer's and brain health. Earlier this month, we were at the American Academy of Neurology Annual Meeting in Philadelphia where we accepted the Advancing Health Equity in Neuroscience Award, along with Accelerated Cure Project for Multiple Sclerosis. From San Francisco to Puerto Rico, we co-hosted and participated in health forums that brought stakeholders together around the themes of brain health equity and research. And we're proud to announce that we recently added two new community-centered partners to the network: Swope Health in Kansas City, MO, and the LatinaStrong Foundation in Phoenix, AZ.

As always, we are grateful for your continued partnership -- together we are building momentum to achieve equity in brain health!

Jason Resendez & Stephanie Monroe
Co-Leads, Alzheimer's Disease Disparities Engagement Network (ADDEN)

P.S. Do you have a tip, resource, or tool that you want to highlight? Share it here.
In honor of Minority Health Month, UsA2's Stephanie Monroe and Jason Resendez wrote a piece for Salud America! that highlighted the social determinants of brain health and offered ways to address injustices in Alzheimer's. Read more here.

UsA2 and Florida International University (FIU) co-hosted a roundtable focused on understanding the social determinants of brain health that put communities of color at increased risk of dementia. The roundtable, "Preserving Brain Health in Diverse Communities," highlighted pathways for research and community-based interventions, and framed the policy changes needed to promote brain health equity and access. Some of our topline takeaways from the roundtable include:
Diverse patient voices are critical to changing the conversations on Alzheimer's.
The economic impact of Alzheimer's on communities of color is staggering and must be addressed.
We must grow and diversify the workforce pipeline addressing Alzheimer's from multiple disciplines.

Dr. Carl V. Hill, Director of the NIA Office of Special Populations; Jason Resendez, Executive Director of the UsA2 convened LatinosAgainstAlzheimer's Coalition; Dr. Jason Richardson, Associate Dean of Research and Professor the FIU Robert Stempel College of Public Health and Social Work; Jill Hellman, Innovation Strategist.
UsA2 was proud to co-sponsor the first Latinos and Alzheimer's Symposium hosted by Massachusetts General Hospital's Multicultural Alzheimer's Prevention Program. The program brought together stakeholders from across the country and Latin America to share insights, tools, and updates on disparities-focused research. Some of our topline takeaways from the symposium include:
Diversity in research matters because it leads to better science and outcomes for all of us.
Great science is built on great public engagement. We need to do a better job of diversifying Alzheimer's studies given our shared recruitment challenge.
AD biomarkers in diverse populations are understudied and that needs to change.
In our advocacy push for an additional $350 million in NIH funding for Alzheimer's research in FY2020, UsA2 worked to include equity-focused report language in the 2020 Labor, Health and Human Services, Education, and Related Agencies appropriations bill. We were pleased to see the budget language recognize that "because rural, poor, and minority populations may be at enhanced risk for dementia, the value and application of [NIH] studies is enhanced when they include individuals from various geographic, ethnic, socio-economic and generational backgrounds…with the specific goal of better understanding disease burden and biomarkers by race and geographic region."

UsA2 signed on to a letter with the REACH Project advocating for increased funding for the CDC's Racial and Ethnic Approaches to Community Health (REACH). Due to combined advocacy efforts with other organizations, REACH received a $16 million increase in FY2020 funding from the House Labor, Health and Human Services, and Education appropriations bill. Learn more about REACH here.

Salud America! writes on the introduction of the 2019 CHANGE Act and its impact on the Latino community. Read more here.
Life Expectancy Gap Illustrates Disparities
Health Resources & Services Administration

Blacks, Hispanics Can Cut Dementia Risk with Heart-healthy Habits, UC Davis Study Finds
Sacramento Bee

$12.8 Million Study Examines Education's Impact on Alzheimer's
Insight News
Diversity and Inclusion Will Build the Scientific Workforce of the Future
National Institute on Aging

We Need More Diversity in Genomic Databases
Scientific American

Chipping Away at the Lack of Diversity in Medical Research
Axios

ADORE Website, Videos are New Tools for Alzheimer's Research Recruitment
National Institute on Aging
RESOURCES AND GRANT OPPORTUNITIES
The Centers for Medicare and Medicaid Services Office of Minority Health is announcing a grant to support researchers investigating health processes, practices, behaviors, and burdens or issues that influence health equity and, in particular, address the social determinants of health and support health disparities research. Learn more here.

The NIA introduced ADORE (Alzheimer's and Dementia Outreach, Recruitment, and Engagement Resources), a searchable, online toolbox designed to help researchers engage, recruit, and retain participants in clinical trials and studies for the prevention and treatment of Alzheimer's disease and related dementias. Access the tools here.

Check out NIA's new "Clinical Studies Recruitment Planning Guide" for Alzheimer's developed in consultation with partner groups like UsA2. Access the guide here.
VOICES FROM THE ALZHEIMER'S COMMUNITY
May is Asian American & Pacific Islander Heritage Month.
Alzheimer's Los Angeles, a partner of UsA2, is committed to providing linguistically and culturally appropriate education, disease information, and caregiver support to the Asian and Asian American community. Check our their resources here.

Harvard Law Professor Charles Ogletree Found After Police Search. Boston Globe; Mayo Clinic, on understanding wandering and Alzheimer's
TAKE ACTION
Call for white papers on reducing the burden of dementia

The National Academy of Sciences (NAS) Division of Behavioral Sciences and Social Sciences is launching the first phase of a decadal survey focused on reducing the burden of Alzheimer's disease and related dementias. A key aspect of the decadal survey process involves outreach to the scientific and stakeholder communities for input. To learn more, click here.

Global Dementia Attitudes Study

Alzheimer's Disease International is conducting a global study on people's attitudes around dementia so we can better address the barrier of stigma. Please take this 10-minute survey before June 14.
BEYOND ADDEN
UsA2 recently issued a call to action for making an annual brain health check-up a regular part of routine healthcare. The call to action corresponded with the publication of a new white paper by UsA2's Brain Health Partnership entitled "Creating an Optimal System of Brain Health Care in the United States." Read more here. Read the paper summary here.

This month, CHANGE Act Co-sponsor Sen. Shelley Moore Capito delivered an impassioned speech on the Senate floor about her own personal experience with Alzheimer's. Watch the video here.

Click here to learn more about the broader work of UsAgainstAlzheimer's.
Welcome to the Network
Swope Health provides primary healthcare and behavioral health services throughout the greater Kansas City area as a patient-centered medical home, nationally recognized for its commitment to an integrated model of healthcare. Today, Swope has grown to provide care for more than 40,000 patients.

The LatinaStrong Foundation serves as a platform to connect, educate, and encourage Latinas to take charge of their health by providing resources for optimizing health and decreasing risk factors for disease. LatinaStrong women are powerful voices of health and wellness for families and local communities.