Promoting brain health equity and uniting Latino-serving organizations and leaders to stop Alzheimer's by 2020.
Help us build a more inclusive Alzheimer's movement.
About Us
Latinos and Alzheimer's Disease
Strategy
Signature Initiatives
Targeted Advocacy
Latino Leadership Initiative on Alzheimer's
Thought Leadership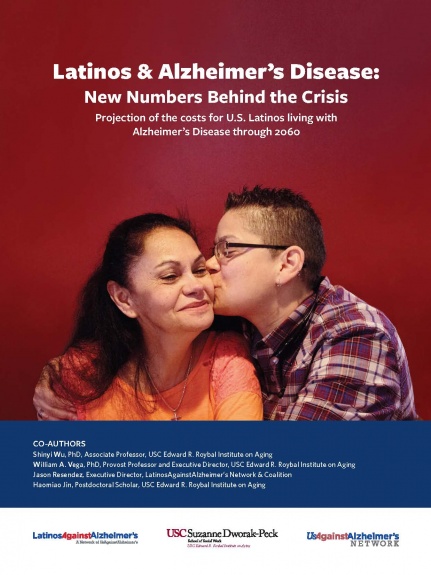 New Report
Latinos and Alzheimer's: New Numbers Behind the Crisis
"Latinos & Alzheimer's: New Numbers Behind the Crisis . . . provides critical insights into this growing crisis and better equips policymakers to develop the solutions that millions of families are desperately waiting for."

Congresswoman Linda T. Sánchez
1%

of NIH-funded clinical trial participants are Latino, even though Latinos make up 17% of the U.S. population.

1.5 times

A Latino is 1.5 times more likely to get Alzheimer's than a non-Latino white.

3.5 million

Latinos are projected to be living with Alzheimer's by 2060.
We help to tell the stories of Latinos on the frontlines of the Alzheimer's crisis.
"Latinos & Alzheimer's: New Numbers Behind the Crisis provides critical information on the economic impact of Alzheimer's on Latinos. While the emotional toll Alzheimer's has on families is incalculable, the financial impact is staggering and now well documented through this first-of-its-kind report."

Congresswoman Lucille Roybal-Allard
Sign up for our newsletter here.
Financial Hardships
It is estimated that Alzheimer's will cost Latino families a total of $2.3 trillion by 2060.