Brain Health Equity Insights - March 2019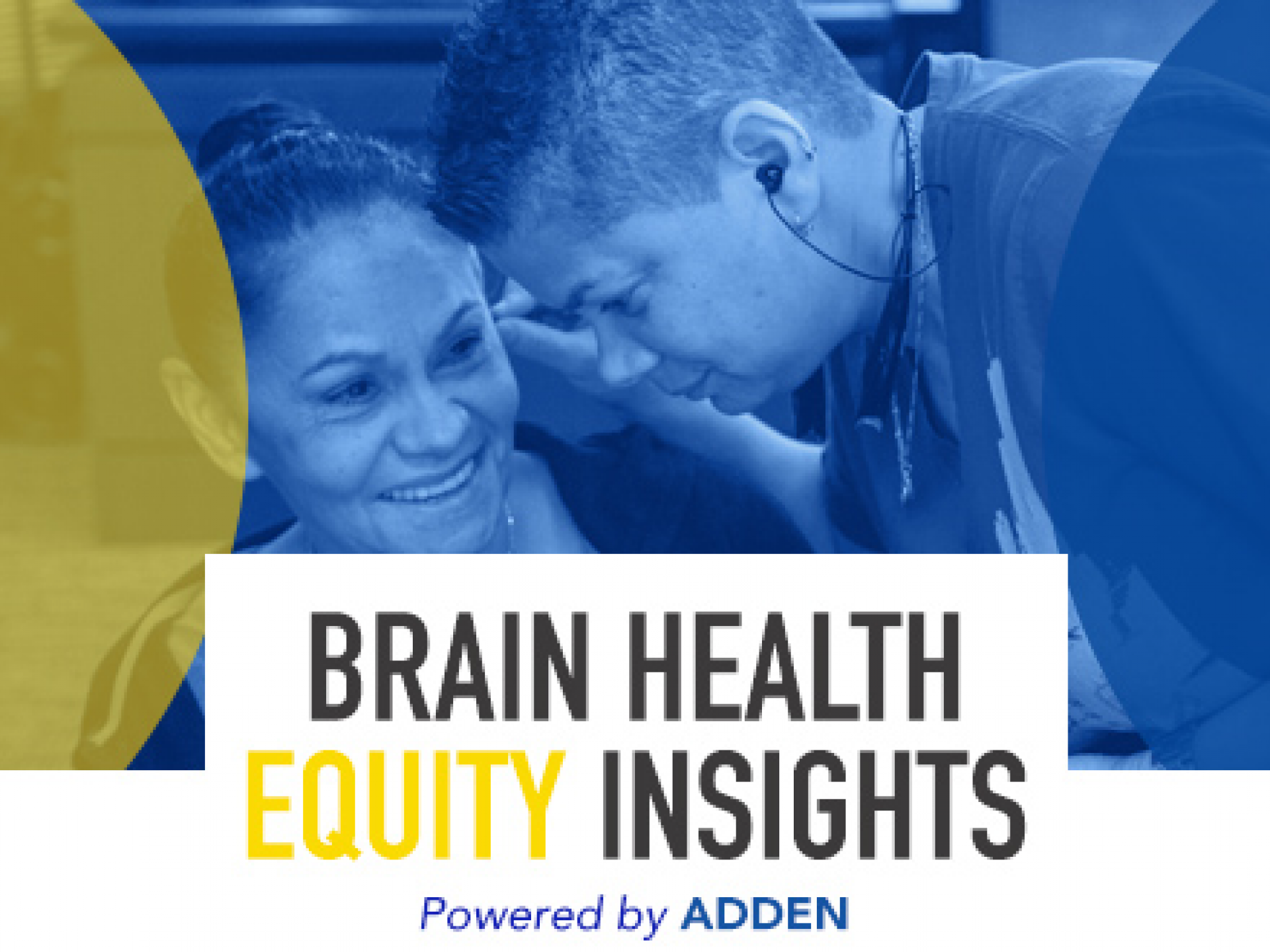 A Note from UsAgainstAlzheimer's

We are thrilled to introduce Equity Insights, a newsletter that will deliver the latest news, opinions, tools and practical insights from the fields of health disparities research, Alzheimer's disparities research and prevention, and health equity policy. This interdisciplinary approach reflects the challenges we face as our population ages and communities of color face increased risk for neurodegenerative diseases like Alzheimer's. Our aim is to provide our growing network of partners the insights needed to build a community of practice in brain health focused on equity and access for women and people of color. 
 
We encourage you to share this newsletter with your colleagues and partners, and hope you find it to be a helpful, informative and action-oriented resource.
 
Jason Resendez & Stephanie Monroe
Co-Leads, Alzheimer's Disease Disparities Engagement Network (ADDEN) 
UsAgainstAlzheimer's 
---
What we're saying
Stephanie Monroe and Jason Resendez highlighted the intersections of Black History Month and Heart Health Month by looking at the relationship between heart and brain health disparities. 
Click to read more.
Jason Resendez wrote about overlooked trends in Alzheimer's for the American Society on Aging's Aging Today, including the disease's impact on millennials and the field's growing focus on prevention. Click to read more. 
UsAgainstAlzheimer's joined more than 100 community organizations in support of appropriations for the CDC's Racial and Ethnic Approaches to Community Health (REACH) program for fiscal year 2020. REACH is the only federal program to directly tackle chronic health disparities by empowering community-based organizations to invest in programs that work for their populations. Over the past few years, funding for REACH has been diverted and come close to elimination, despite the program's effectiveness. Learn more about REACH here, and read the final appropriations letter here.
 
A national survey of Alzheimer's caregivers commissioned by UsAgainstAlzheimer's found that employed adults who had the benefit of paid medical and family leave were better able to care for loved ones suffering from Alzheimer's or dementia. They were also better able to manage their own health, emotional well-being and finances. This new research highlights the importance of a paid medical and family leave policy that supports caregivers – particularly caregivers of color and women. Learn more about the survey here.
In a piece for STAT News, USC associate professor of social work Dr. Karen Lincoln called on HHS to "act boldly to help African Americans fight Alzheimer's disease." We are proud to partner with USC's Edward R. Roybal Institute on Aging and the Suzanne Dworak-Peck School of Social Work to address brain heath disparities.
 
In an editorial for JAMA Neurology, Dr. Lisa Barns of the Rush Alzheimer's Disease Center underscored the importance of biomarkers for Alzheimer dementia in diverse racial and ethnic minorities. 
 
In a piece for STAT News, Jane L. Delgado, president and CEO of the National Alliance for Hispanic Health, and Edward Abrahams, president of the Personalized Medicine Coalition, called on the research enterprise to "dedicate adequate resources to community education about clinical trials through one-to-one assistance from trusted sources in minority communities."
Studies explore Alzheimer's risk factors, biomarkers in Latinos
National Institute on Aging
Assessment of racial disparities in biomarkers for Alzheimer dementia 
Journal of the American Medical Association
Apolipoprotein E genotypes among diverse middle-aged and older Latinos: Investigation of neurocognitive aging results
Nature.com
Research and Resources are needed for Latinos and African Americans from Alzheimer's
WUWM
Alzheimer's Disease may develop differently in African Americans, study suggests 
NPR
ADDEN member Dr. Jonathan Jackson, center director of the CARE Research Center at Massachusetts General Hospital, was recently named a "40 under 40" leader in minority health by the National Minority Quality Forum. Read more about the award here. Congratulations, Dr. Jackson!
Interdisciplinary Research Leaders is a leadership development opportunity for teams of researchers and community partners, including community organizers and advocates. Learn more here.
 
Examining Diversity, Recruitment and Retention in Aging Research: Encouraging new, collaborative teams to target gaps in recruitment, retention methods and outcomes while supporting establishing community infrastructure needed to accelerate studies. Learn more here.
The Area Deprivation Index (ADI) allows for rankings of neighborhoods by socioeconomic status and disadvantage in regions of interest across the country at the state or national level. It includes factors for theoretical domains of income, education, employment and housing quality. Learn more about the ADI here.
Francisco Espinoza is one of millions of people living with Alzheimer's and other forms of dementia in the U.S.
AlzheimersLA.org
 
'Everything is for Alexis': She is not yet 2. Her father fears she will have Alzheimer's.
Washington Post