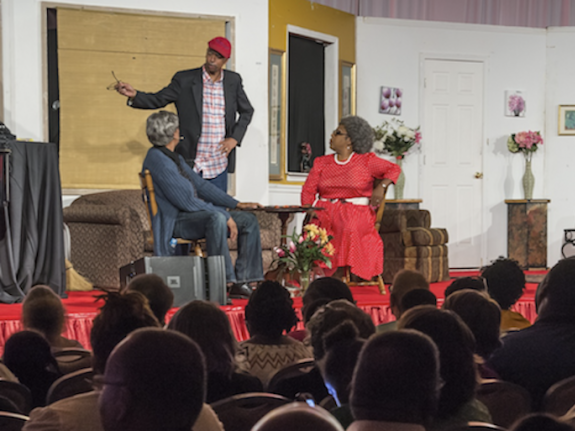 Forget Me Not Play
When it comes to Alzheimer's disease, many communities – often those most at-risk – are left in the dark. The award-winning "Forget Me Not" play sheds light on confronting Alzheimer's disease head-on.
AfricanAmericansAgainstAlzheimer's, a network of UsAgainstAlzheimer's is pleased to present a live recording of the award-winning stage play, Forget Me Not for you to watch from the comfort of your own home or other gatherings.
About 'Forget Me Not' Play
This award-winning stage play by Garrett Davis invites the audience into the life of an African American family and shows the immense impact of Alzheimer's disease on the primary caregiver, family and friends.  Meeting people where they are, "Forget Me Not" aims to raise awareness of brain health and the importance of intervening early to prevent and detect changes.   Traveling to at least 27 cities across the United States, Forget Me Not has left an indelible imprint on the minds and hearts of the many thousands who have been able to watch it live.
'Forget Me Not' UsAgainstAlzheimer's Play Live Video
Population Background
Millions of Americans are intimately familiar with Alzheimer's disease, either through first-hand experience or as a caregiver. But for African Americans, who are twice as likely to develop Alzheimer's or other dementias, the symptoms often go unaddressed because of denial, fear, stigma, and an acceptance of memory loss as a normal part of aging. The encouraging news is that there are strategies that can be used to reduce risk of Alzheimer's if we intervene early. These strategies include nutrition and exercise as well as lifestyle changes to address high blood pressure, heart disease, diabetes and stroke. As the saying goes, what's good for your heart is good for your brain.
AFRICAN AMERICANS AGAINST ALZHEIMER'S is a network of UsAgainstAlzheimer's and the preeminent voice in and for the African American community on Alzheimer's and its disproportionate impact on African Americans. Through the play Forget Me Not, we reach communities of color nationwide, taking the audience into the life of a family facing Alzheimer's disease, showing the disease's impact on relationships between family members, friends and people in the community and building appreciation for and participation in clinical trials by African Americans.