Why Women Are Our Best Bet in Alzheimer's Research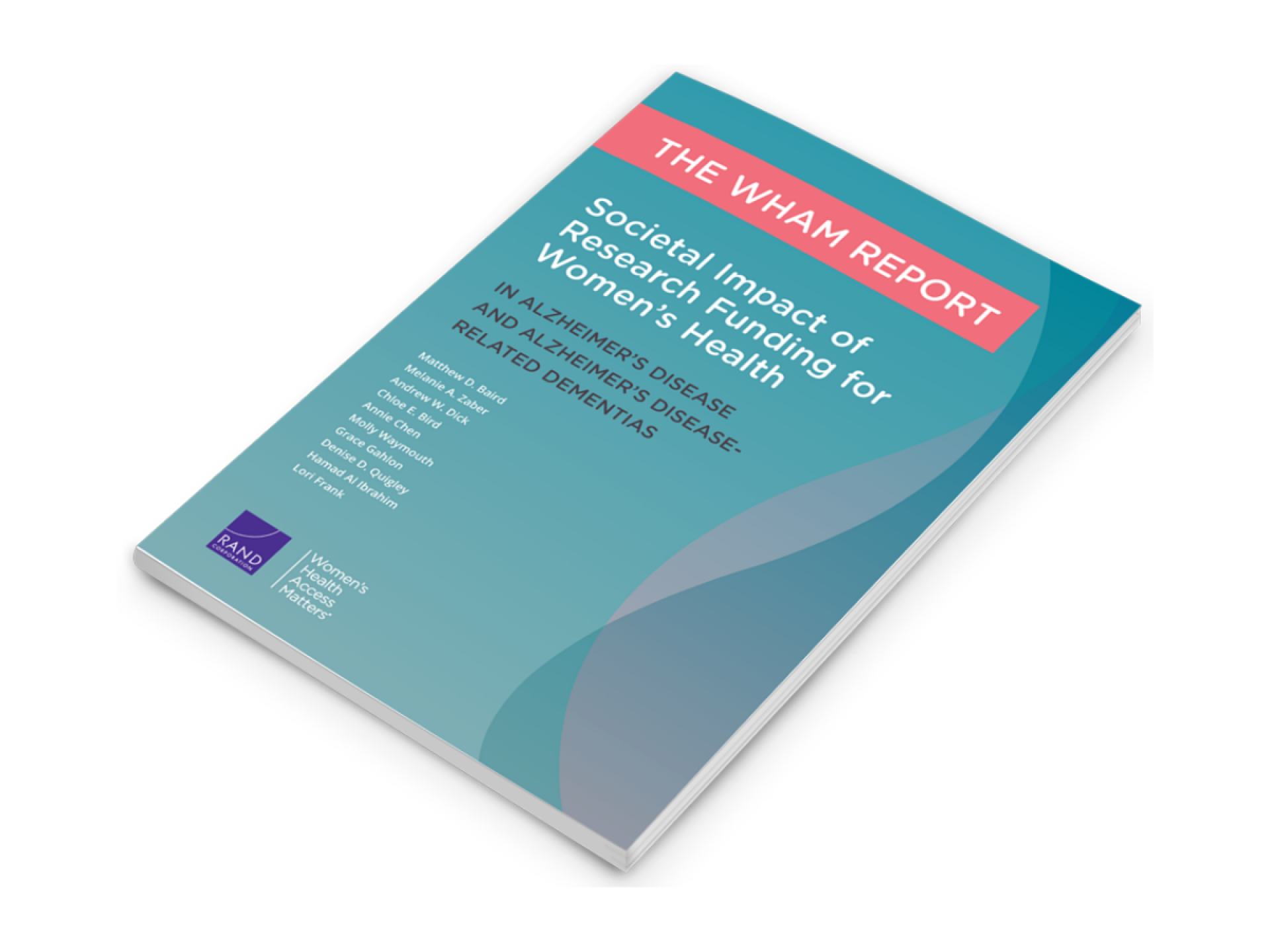 For too long, Alzheimer's research has overlooked one of the most fundamental factors in the disease: sex-based differences. Now, the case for change is even clearer. A new report from Women's Health Access Matters (WHAM) finds that doubling National Institutes of Health (NIH) funding for women-focused Alzheimer's research would add over $930 million to the U.S. economy—a stunning 224% return on investment.
This research approach could unlock the secrets of Alzheimer's to benefit everyone. Sex-based differences are the gateway to precision medicine, offering new scientific avenues to accelerate progress. By understanding these differences, we have an opportunity to achieve breakthroughs that help both women and men—moving us towards the more personalized approach that is likely needed for more effective treatment and care.
WomenAgainstAlzheimer's (WA2) applauds this important report and urges policymakers take immediate action. For years, we have called for research on sex- and gender-based factors in Alzheimer's disease, which affects twice as many women as men. The WHAM report proves this research is not just a moral imperative, but an incredible investment in our shared future.
The WHAM Report: We Can't Afford Business as Usual 
The report spotlights a key oversight in current research. Even though women account for two-thirds of people with Alzheimer's, only 12 percent of NIH funding for Alzheimer's disease and related dementias (ADRD) goes to projects focused on women. As a result, researchers do not fully understand the role of sex- and gender-based factors in Alzheimer's—holding back risk reduction, diagnosis, and care for everyone.
For the WHAM Report, researchers at the RAND Corporation find that doubling NIH investment in women-focused research would deliver a range of benefits:
Investing an additional $300 million for women's ADRD research would pay for itself three times over, returning $930 million—significantly higher than the rate of return on general Alzheimer's research.
This investment would save people—both women and men—from more than 6,000 years with ADRD across a period of 30 years.
Every $1.00 invested in women's ADRD research would deliver $2.00 in increased economic activity from improved health and quality of life, as well as $1.24 in reduced nursing home care costs. 
Keep in mind that these findings only include the NIH. Even greater benefits are possible if the private sector, foundations, academic research centers, and other organizations give research on sex-based differences the focus that it deserves.
Our Challenge: We Have the Data. Will We Act on It?
This should be a transformational moment for Alzheimer's research and policy. WA2 is mobilizing our network of women leaders and advocates to call for the bold investments that this report demands. Four actions are key:  
Prioritize research on women and Alzheimer's. We need studies that specifically examine sex- and gender-based differences in Alzheimer's disease, from both the NIH and other organizations. Understanding these differences is key to understanding Alzheimer's—and ending it. It is why we are partnering with the Innovation Center on Sex-Differences in Medicine at Harvard University.
Ensure women can access research and clinical trials. We need tools and networks to help women more easily access, enroll, and participate in clinical trials and other types of research. This can help to address the long history of women's underrepresentation in biomedical research, as well as move us towards the precision medicine that is likely needed to effectively treat the disease.
Empower women to take control of their brain health. Every woman can take steps to reduce their risk for Alzheimer's disease. The Be Brain Powerful campaign provides actionable information and a 30-Day Brain Health Challenge, which also gives women the knowledge to advocate and get involved in research. 
Ignite a nationwide movement for change. Since our founding, WA2 has called for research on women and Alzheimer's. Every day, we're mobilizing more women to join our nationwide movement and push for transformational change. 
While there have been important recent advances, the pace of progress against Alzheimer's is still too slow. Meanwhile, the immense health and economic burden on women only grows. Women-focused research offers a vital opportunity to accelerate progress and achieve advances that benefit women and men, their families, and our entire society. 
Doubling NIH funding for women-based research may sound dramatic. But with almost $1 billion at stake, we cannot afford the status quo.
About the Author