My Story: What Congress Can Do to Support Brain Health Equity for Patients & Caregivers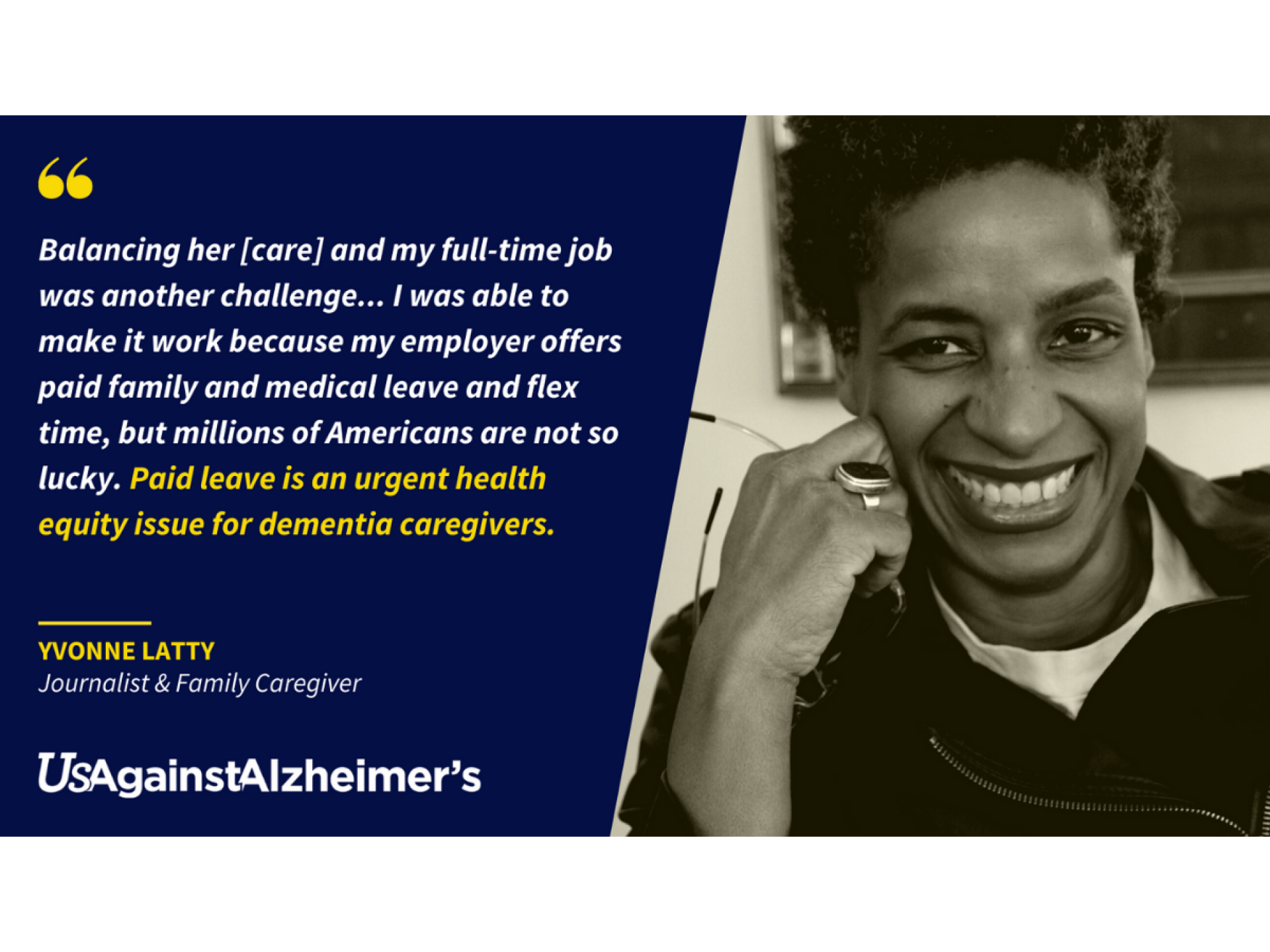 My mother's journey with Alzheimer's disease over the past six years exemplifies the challenges facing people living with the disease, their caregivers and communities of color.
I testified recently before Congress about my mom, Ramona Latty, an 88-year-old Dominican immigrant who has advanced Alzheimer's disease and lives in a nursing facility in the Bronx. I am her only living child.
This disease is rampant in my community. In general, Latinos are 1.5 times more likely than non-Latino Whites to develop Alzheimer's disease.[I] My chances of getting the disease are also slightly elevated because my mother has it. The health issues that plague our community—high blood pressure, heart disease, diabetes and stroke—make us more vulnerable. The statistics for the African American community are even worse; they are two times more likely to get the disease than Whites.
This disease is not who my mother is, even though it has taken control of her.
In 1950, my mom immigrated from the Dominican Republic to New York — her dream come true. She met my dad, Albert, a child of Jamaican parents, at a beauty parlor in Spanish Harlem where she worked. They were married nine months later and had two daughters: me and my sister Margie. My dad and sister have both died, and it has been just my mother and I  for a long time.
Six years ago, my mother started to show signs of dementia, losing things and being confused. Then she began to have hallucinations. I discovered she gave all of her money to mail-order psychics. We spoke daily, sometimes multiple times, and I found myself thinking constantly.
Her doctor referred us to a neurologist. I remember the day we went to his office in the Bronx, where Black and Brown people packed the waiting room. After a series of tests, he told us dryly she had Alzheimer's disease. He gave me some URLs, told me to Google it, and sent us on our way in less than 10 minutes. I went home and cried.
This is not uncommon in the Latino community. Despite a higher risk for Alzheimer's, Latino and Black Americans face steep inequities in accessing a formal diagnosis. According to a recent study of Medicare beneficiaries, Black Americans (18.2 percent) and Latinos (15.8 percent) were less likely to receive a timely diagnosis when compared to Non-Hispanic Whites (23.3 percent.)[ii]
But I was ready to fight this disease. I switched neurologists, and the new one referred her for a clinical trial to help with the hallucinations.  
While Latinos make up roughly 17 percent of the U.S. population, they make up less than 2 percent of the participants currently enrolled in Alzheimer's research funded by the National Institute of Health.[iii] Clinical trial enrollment represented hope against a disease that is often seen as a death sentence. I was thrilled she was going to be a part of one, and hopeful it could help her.
But it was grueling. She lived in the Bronx, and I had to get her to Washington Heights every week for six weeks. She had to visit a series of doctors and have a psychological exam before the medicine was administered. We barely received enough compensation to cover an Uber from the Bronx to the research site.
Research accessibility in communities like the Bronx is a systemic issue. According to an analysis by the University of Wisconsin, the geographic distribution of the nation's 31 federally funded Alzheimer's Disease Research Centers "skews toward the most wealthy neighborhoods."[iv]
Balancing her research participation and my full-time job was another challenge. I was able to make it work because my employer offers paid family and medical leave and flex time, but millions of Americans are not so lucky.
Having this flexibility was critical as my mother's care become more complicated. She needed to take the medicine at a certain time, but couldn't take it on her own; plus, she only had a part-time aide, so I scrambled for more help. It was exhausting—and in the end, she got the placebo version of the trial drug. After all that, the treatment hadn't done anything. And there was not much else they could do but wish us luck and send us on our way.
Despite the initial engagement and our interest, we were never contacted again about opportunities to participate in a clinical trial.
Soon, her hallucinations worsened. Then her aide found my mother wandering in the street. She was no longer safe and needed 24-hour care. I had to place her in a nursing home.
It was the hardest thing I ever had to do in my life.
After a year of living through a pandemic in which every floor of her nursing was infected with COVID-19, my mother further declined. She is now non-verbal and can no longer feed herself –every day I wait for the call that says she is passing.
I have urged legislators to think of her story and to take four policy steps for my mother and so many like her.
Improve equity in diagnosis and detection of Alzheimer's. Early and accurate diagnosis of dementia is central to improving the delivery of health services and care, yet providers are under-equipped to make an accurate and timely diagnosis. Studies found that approximately 40 percent of patients with dementia are unrecognized in the primary care setting.[v] The CHANGE Act (H.R. 3354 / S. 1692) would encourage early assessment and diagnosis of Alzheimer's disease and related dementias. It would ensure Medicare providers fulfill the detection of cognitive impairment requirement in a more effective manner by requiring providers to use screening tools designed to detect cognitive impairment and signs of Alzheimer's or dementias in the early stages. This type of legislation would put an end to the "Google It" approach many providers are taking today.
Improve equity in Alzheimer's clinical trials. Underrepresentation of people like my mom in Alzheimer's research, and of Asian and Native Americans, could limit our understanding of how new drugs and treatments might work in high-risk populations. The Equity in Neuroscience and Alzheimer's Clinical Trials (ENACT) Act (H.R. 3085 / S. 1548) would increase the participation of underrepresented populations in Alzheimer's clinical trials by expanding education and outreach to these populations, encourage the diversity of clinical trial staff, and reduce participation burden.
Establish a paid family and medical leave policy to help families navigate work and medical care. Over the past year, millions of family caregivers found themselves scrambling to fill gaps in care—often without paid leave—as many older adults and people with disabilities lost access to services. Like me, many are sandwiched between providing care for a loved one and raising children. A national paid leave policy can help alleviate challenges facing working caregivers who often struggle to be in two places at once. Congress should support efforts to establish a national paid family and medical leave policy by passing the Building an Economy for Families Act.
Support a National Alzheimer's Prevention Goal. Research confirms a significant percentage of dementia, which ranks the top of fears of aging Americans, could be delayed - and in some cases prevented - by early intervention. Studies indicate that approximately 40 percent of dementia cases are potentially preventable by addressing risk factors including hypertension, diabetes, depression, physical inactivity, poor nutrition, smoking, hearing loss, traumatic brain injury, sleep, and social isolation and loneliness. This is a hopeful message few Americans or health providers are aware of. That's why the Department of Health and Human Services should establish an ambitious national goal to prevent Alzheimer's disease and related dementias. More than 190 national organizations are calling for a national dementia prevention goal and a plan to reach that goal.
My mother's journey with the disease is nearly at its end, but Congress can – and must – do much more to help people like her with diagnosis, access to clinical trials and greater support for family caregivers.
---