Mandy Moore Raises Awareness of Alzheimer's On and Off Screen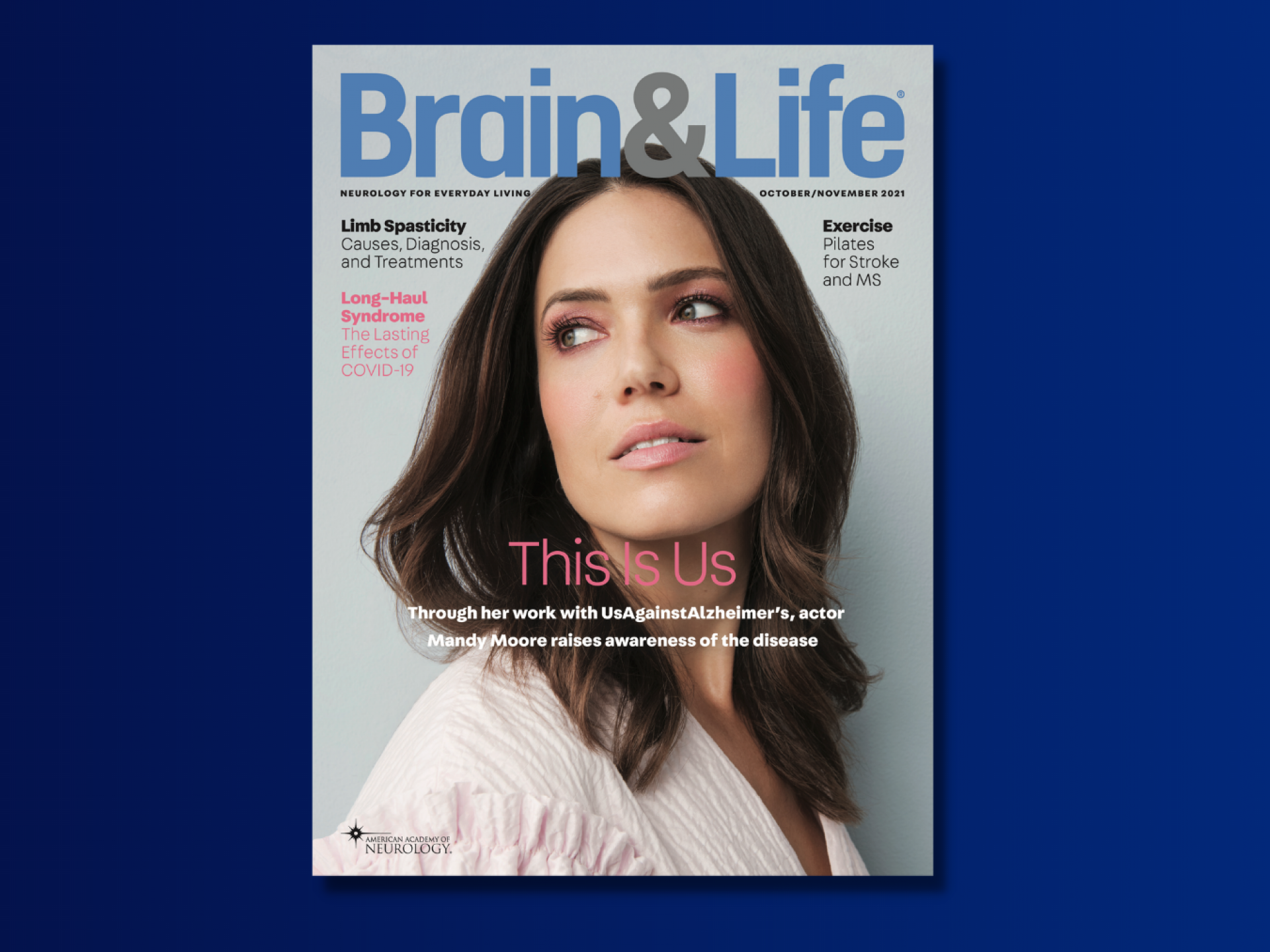 She plays a character with dementia on the TV show This Is Us. In real life, the actor is joining the fight against Alzheimer's disease.
* This article was originally published in Brain&Life Magazine.
After filming her last scene for the 2019 Thanksgiving episode of This Is Us, a decades-spanning NBC drama, Mandy Moore rushed back to her trailer, shut the door, and burst into tears. "I had all this emotion pent up that I was holding back, and I had to let it go," she recalls.
In that episode, her character, Rebecca, finally admits to her son Randall that something is wrong with her memory. The Pearson matriarch confesses that she had gone to a movie and during the previews couldn't remember what she was there to see. "My instinct when we were filming the scene was to cry," Moore says. "But I remembered the director telling me that Rebecca was at peace with it, so I held back the tears. Once we wrapped, I raced back to the trailer and just started bawling."
Over the next two years, the Pearson family and the show's viewers learn that Rebecca has mild cognitive impairment likely due to Alzheimer's disease. Her sons, Randall and Kevin, battle over whether she should participate in a clinical trial of an experimental Alzheimer's drug, which Rebecca first resists but ultimately agrees to. In the emotional season 5 finale, which aired in May 2021, a scene set about a decade in the future gives glimpses of a debilitated Rebecca on her deathbed as her grieving family gathers around her.
For the 37-year-old Moore, playing Rebecca Pearson during this stage of her life has been a privilege and a challenge—and a responsibility she takes very seriously. "I was heartbroken when I read the story line. For a character who has been handed some difficult challenges in her life, this just felt like an even tougher blow," Moore says. (Rebecca lost her husband in a tragic house fire when their three children were teenagers. And one of her triplets was stillborn; she and her husband adopted Randall after he was abandoned and brought to the hospital where the triplets had been born.)
But Rebecca handles her diagnosis with grace and determination, says Moore. "There's such a sense of pride in the way we've seen her story unfold. As difficult as this story is, I knew that our writers and show creator would handle this particular conversation, which is such an important one, with the care and consideration it deserves."
To date, no one in Moore's family has been diagnosed with Alzheimer's disease or another dementia. "Once I started doing my research and came to understand how incredibly prevalent it is—more than 5.8 million Americans have Alzheimer's—I couldn't believe we had escaped having this personal connection," she says.
She asked countless questions of the neurologists who advised the writers and cast on important scenes, including the one where Rebecca goes through diagnostic testing. "We wanted to know exactly where the doctor would sit, where my family would sit, how my character would complete the test," Moore says. "It was so important for us to portray this complicated journey accurately to honor the experiences of so many families. I wanted to understand the repetition, the drifting, the absence of the filter, how people feel disconnected from themselves and the world and how terrifying that must be."
In educating herself, Moore listened to podcasts, watched documentaries, and read books, including On Pluto, journalist Greg O'Brien's account of his own experience with Alzheimer's disease. "He's an unbelievable writer and an incredible man, and I was lucky enough to become friendly with him," Moore says. "The way he distills his day-to-day life is heart-wrenching but also beautiful. It gave me a glimpse of what this disease is like. There's a lot you can read about research and science, but actually getting a perspective like his is so rare."
Moore was particularly struck by two images O'Brien uses and found herself recalling them when she was ready to film. "I imagined a thick, dark curtain coming down in front of my view of the world," she says. "I remember him writing about waking up in the morning and feeling as if someone took all the files from the filing cabinet in his brain and threw them across the room, and they're all out of order and he has to pick them up piece by piece."
Speaking Out
After his diagnosis, O'Brien joined the board of UsAgainstAlzheimer's, a nonprofit organization founded in 2010 by former AOL Time Warner attorney George Vradenburg and his wife, Trish, whose mother, Bea Lerner, died from complications of the disease in 1992. Since its inception, the group has vowed to "disrupt and diversify" the movement to cure Alzheimer's. In the past decade, UsAgainstAlzheimer's has secured $10 billion in annual public funding for Alzheimer's research. It also has set a goal to end Alzheimer's disease by 2025 and has created the Center for Brain Health Equity to help address the disparate impact of Alzheimer's and related dementias on women and communities of color. In addition, UsAgainstAlzheimer's has developed the BrainGuide online resource and the Be Brain Powerful campaign to help people take control of their brain health.
As it happens, Moore is a longtime friend of the Vradenburgs' daughter, Alissa. She was the person Moore called once she found out about her character's fate. "I told her I wanted to do whatever I could to help further this conversation, especially with women," Moore says. "Being part of a show like This Is Us that has such mainstream appeal and a fervent audience gives us the opportunity to use our platform as a megaphone, to talk about early detection and diagnosis and treatment and research for Alzheimer's disease."
In September 2020, Moore signed on as a national ambassador for the Be Brain Powerful initiative, which is aimed at women. (For her ongoing advocacy efforts, she received the Bea Lerner Valor Award last year.) Women are twice as likely as men to develop Alzheimer's disease; they also make up two-thirds of the nation's 16 million Alzheimer's caregivers. Be Brain Powerful provides information about preserving and protecting the brain, including a series of brain health challenges that educate people and encourage them to care for their brains. Because of the COVID-19 pandemic, Moore's efforts for the campaign have been mostly virtual.
She's been interviewed on TV shows such as Today and done a joint interview with Greg O'Brien for Parade. She also has lent her face to #BrainGoals promotions for BrainGuide and spoke at the UsAgainstAlzheimer's 2020 National Alzheimer's Virtual Summit. But she's hoping to do more in person when it's possible. "There was talk of going to Capitol Hill and speaking with members of Congress about funding for research into Alzheimer's disease and other dementias, and we hope that will be possible again soon," Moore says.
In mid-October, she'll attend the National Alzheimer's Summit and the Trish Vradenburg Gala, which bring together leading advocates in the Alzheimer's movement. In the meantime, she continues to raise awareness. "I want to do anything that's helpful to further the conversation and draw attention to the importance of early detection and diagnosis and getting women to understand their risks and make necessary changes to their lives to protect their brain health."
The actor is taking her own advice. She recently completed the BrainGuide memory questionnaire, which includes tests of word recall and definition and math problems. At the end, it suggests next steps (see a doctor, for example) and gives basic information about how diet, exercise, sleep, social engagement, and general good health may reduce the risk of cognitive decline. Moore says she recognizes the importance of that more than ever. "Nutrition and exercise, sleep and relaxation, mental fitness, and social interaction are all things we can control that impact our health overall, but specifically our brain health," she says. "I'm having more conversations about this with my friends, because we need to take these steps early in our lives. We need to be on the rooftops shouting about this, and not waiting until someone is diagnosed later in life."
Moving Forward
Since the birth of her first child, Gus, in February 2021, Moore has been getting a lot less sleep, but she tries to engage in mentally stimulating activities like doing crossword puzzles every day. She also knows that acting is good for her brain. "The neurologists I met when we were doing early research for the show told me that having to memorize lines helps keep my brain active," she says. "And when I'm exercising, taking a walk, or meditating, I'm aware that I'm actually doing something positive for my brain as well."
Becoming a mother has altered Moore's perspective on her role as Rebecca. "I want to go back and redo the whole show!" she says. "I now have some inkling of a clue that I didn't have for the past five years of playing this character. Everything hits me in a new and very personal way. Being a mom and loving to this degree that I never thought humanly possible—everything's in Technicolor now. I want to be around and be healthy for him as long as possible."
Good health has taken on new meaning for Moore in the past 20 months. "I gave birth while wearing a mask, and my husband and doula were in masks," she says. "When you're in the throes of labor, the last thing you want is a freaking mask on your face." Now that she and her husband, Taylor Goldsmith, are fully vaccinated, they've been able to spend time with their families. "We've been able to see and hug my parents and in-laws, which has been great," she says.
With This Is Us shooting its final season, Moore is thinking about what comes next. She first rose to fame as a teenage singer; her debut album, So Real, was released in 1999, and she continued to record as her acting career took off with A Walk to Remember, Chasing Liberty, and other films. In 2010, she voiced Rapunzel in Disney's animated film Tangled.
"I want to keep making music, which I'm really excited about," she says. "I also started my own production company a couple of years ago, and we have some projects that are percolating to varying degrees." Moore is also looking forward to continuing to spend time with Gus and traveling. Still, she's wistful about This Is Us coming to a close. "It's so hard to wrap my brain around not going to work and slipping on those shoes anymore," she says. "The whole cast is on a giant text chain, and someone will talk about being so sad that it's over, and then someone else pops in and reminds us that we have just started filming and we have 18 episodes to do. It's changed all our lives, every single person who's involved with the show. It's like saying goodbye to your favorite job ever."
Moore is prepping emotionally for the next steps in Rebecca's journey. "I think it's going to be pretty brutal," she says. "I also think it's going to be very hard on the family, and it's so important for the show to highlight the effect that Alzheimer's has on caregivers. I hope they are able to see themselves in the scenes of our show and see their stories being handled with care and consideration and respect."