Be Brain Powerful TM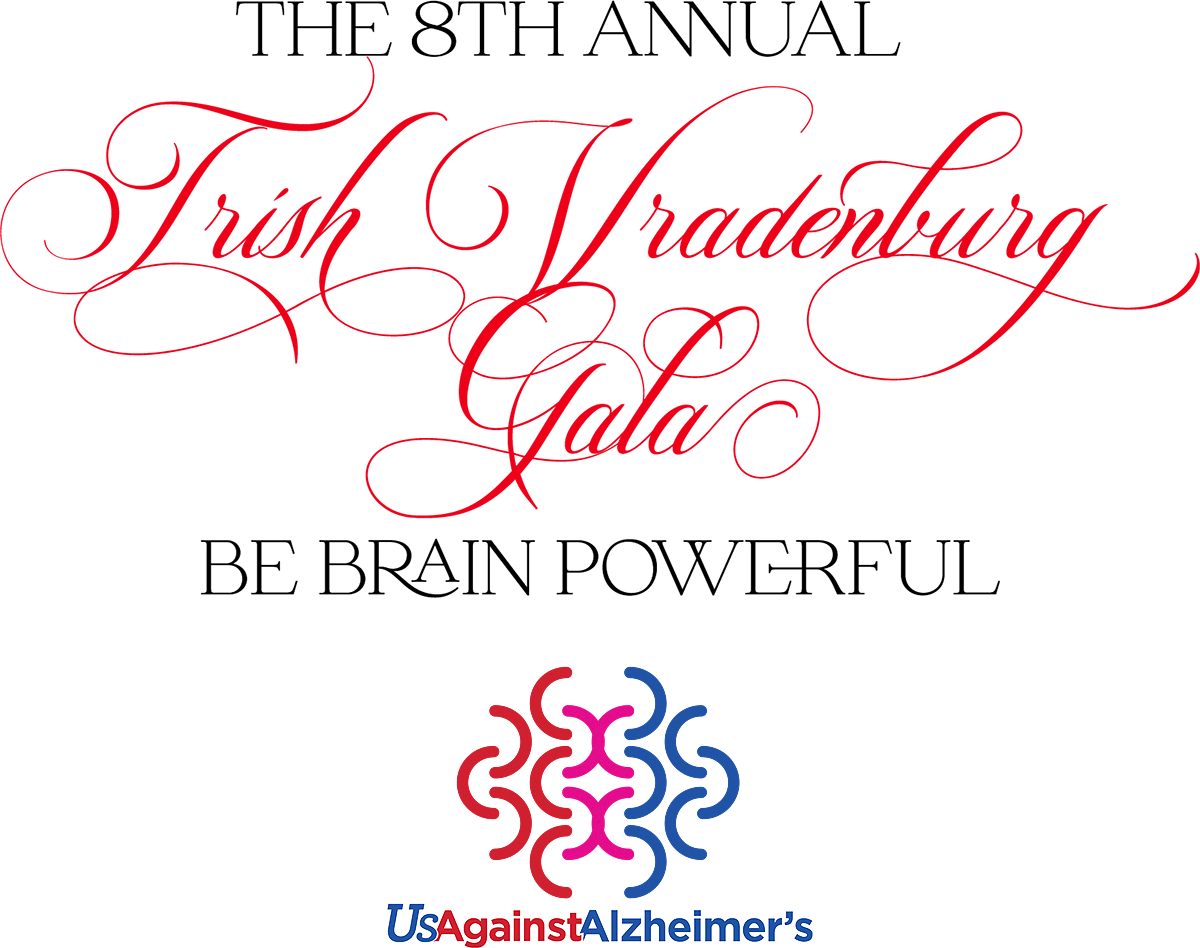 October 13, 2020
A Live Virtual Event to Benefit UsAgainstAlzheimer's
Welcome to the 8th Annual Trish Vradenburg Gala
Virtual Gala
Wednesday, October 13, 2021
7:00PM
Join us for an interactive, virtual event featuring live programming and interactive opportunities to engage with special guests and attendees.

Click HERE to sign up for email updates or check back in the weeks ahead for updated information.

UsAgainstAlzheimer's has been closely monitoring the incidence of COVID-19 in our region as well as guidance from local health departments and the Centers for Disease Control and Prevention (CDC) regarding large gatherings. For the health and safety of our guests, UsAgainstAlzheimer's has made the decision to shift to an all-virtual event.
---
Dr. David Satcher
16th Surgeon General of the United States 
Bea Lerner Award Recipient

Honorees:

Corporate Champion

The Honorable Robert Menendez
United States Senator from New Jersey
Congressional Champion

 

With Special Guests:

 

Joshua Henkin
Author

Leeza Gibbons
Television Host, Activist

Billy Crystal
Actor, Writer, Director, Comedian

Lisa Genova
New York Times Best Selling Author

Dr. Marie Bernard
National Institues of Health
About the Bea Lerner Valor Award
The Bea Lerner Valor Award is given in honor of UsAgainstAlzheimer's Co-Founder Trish Vradenburg's mother. Bea Lerner was a powerhouse, embracing life with style, grace, and guts. Politics was her passion, and she could capture a room just by entering it. Bea was diagnosed with Alzheimer's in 1987, and in a few short years this valiant lioness of a woman disappeared into the unforgiving chasm of this disease. This award is given annually to a person living with dementia or a caregiver who has shown this same determination, fearlessness, hope and humor in our shared fight against Alzheimer's.
Schedule
Interactive Virtual Events
7:00 PM Virtual Doors Open
7:15 PM Interactive Activities
8:00 PM Livestream Program
Committees
Gala Co-Chairs
Sigrid and Vinton Cerf 
Maddy and Ken Dychtwald 
Marilyn and Michael Glosserman 
Carol Brown Goldberg and Hank Goldberg 
Arlene and Robert Kogod 
Jill Lesser and Jonathan Diesenhaus
Marion and Robert Rosenthal Family Foundation
Karen and Chris Segal 
George Vradenburg 
Judy and Leo Zickler
Champions
Dr. Philip and Faith Bobrow
The Honorable Ann Brown 
Lauren and Glen Howard
Invariant and Heather Podesta
The Herbert J. and Dianne J. Lerner Foundation
Shawn and Howard Taylor
Sandra and Larry Small
Honorary Congressional Committee
The Honorable Rick Allen 
The Honorable Don Bacon
The Honorable Andy Barr 
The Honorable Nanette Barragan 
The Honorable Ami Bera 
The Honorable Don Beyer 
The Honorable Sanford Bishop 
The Honorable Marsha Blackburn 
The Honorable Roy Blunt 
The Honorable Anthony Brown 
The Honorable Shelley Capito 
The Honorable Katherine Clark 
The Honorable Steve Cohen 
The Honorable Tom Cole 
The Honorable Gerry Connolly 
The Honorable Charlie Crist 
The Honorable Suzan DelBene
The Honorable Ted Deutch 
The Honorable Debbie Dingell 
The Honorable Lloyd Doggett 
The Honorable Brian Fitzpatrick 
The Honorable Lois Frankel 
The Honorable Vicky Hartzler 
The Honorable Derek Kilmer 
The Honorable Angus King 
The Honorable Amy Klobuchar 
The Honorable Ann "Annie" Kuster 
The Honorable Darin LaHood 
The Honorable Patrick "Pat" Leahy 
The Honorable Ted Lieu 
The Honorable Zoe Lofgren 
The Honorable Brian Mast 
The Honorable Betty McCollum 
The Honorable Chris Murphy 
The Honorable Alex Padilla 
The Honorable Nancy Pelosi 
The Honorable Rob Portman 
The Honorable Jamie Raskin 
The Honorable Lucille Roybal-Allard  
The Honorable Jeanne Shaheen 
The Honorable Thom Tillis 
The Honorable Paul Tonko 
The Honorable David Trone 
The Honorable Chris Van Hollen 
The Honorable Roger Wicker 
---
The Brain Trust
Mrs. Laura Bush, Former First Lady of the United States
Honorary Chair
Elizabeth Cousens, Chief Executive Officer; UN Foundation
Kim Campbell, Wife of the late Glen Campbell, Founder; CareLiving.org
Renée Fleming, Soprano
Dolores Huerta, Founder and President; Dolores Huerta Foundation
Kay Coles James, President; The Heritage Foundation
Jo Ann Jenkins, Chief Executive Officer; AARP
Kerry Kennedy, President; Robert F. Kennedy Human Rights
Judith Lichtman, Founder; National Partnership for Women and Families
Mary Matalin, Political Consultant
Lauren Miller Rogen, Co-Founder; Hilarity for Charity
Kathleen Sebelius, Former Secretary; Department of Health and Human Services
Donna E. Shalala, Former Secretary; Department of Health and Human Services
Jay Newton Small, Journalist, Founder and Chief Executive Officer; MemoryWell