Be Brain Powerful TM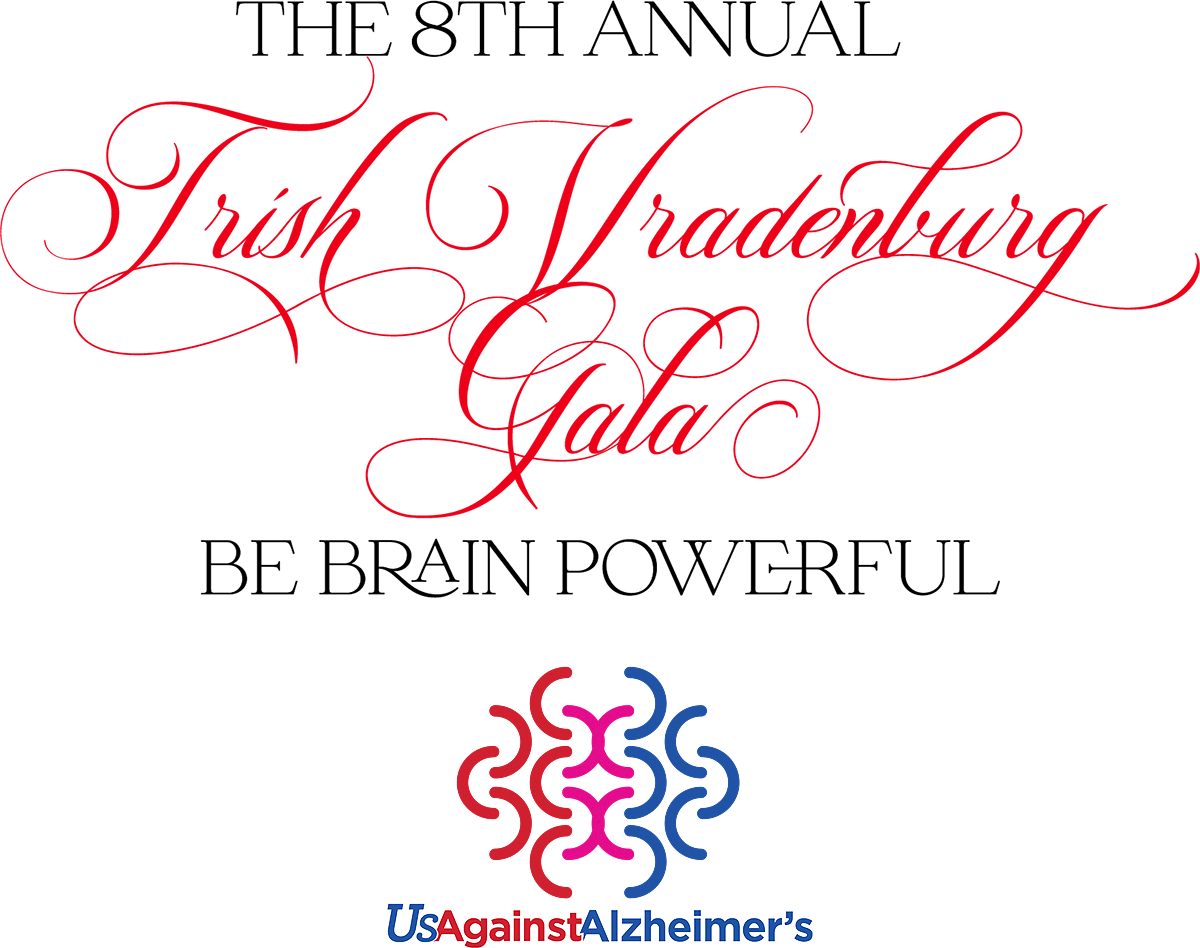 October 13, 2021
A Live Virtual Event to Benefit UsAgainstAlzheimer's
Welcome to the 8th Annual Trish Vradenburg Gala
Virtual Gala
Wednesday, October 13, 2021
Click Here to Explore the Program
---
Dr. David Satcher
16th Surgeon General of the United States 
Bea Lerner Award Recipient

Honorees:

Corporate Champion

The Honorable Robert Menendez
United States Senator from New Jersey
Congressional Champion

 

With Special Guests:

 

Joshua Henkin
Author

Seth Rogen and
Lauren Miller Rogen
Hilarity for Charity

Leeza Gibbons
Television Host, Activist

Billy Crystal
Actor, Writer, Director, Comedian

Lisa Genova
New York Times Best Selling Author

Dr. Marie Bernard
National Institues of Health
About the Bea Lerner Valor Award
The Bea Lerner Valor Award is given in honor of UsAgainstAlzheimer's Co-Founder Trish Vradenburg's mother. Bea Lerner was a powerhouse, embracing life with style, grace, and guts. Politics was her passion, and she could capture a room just by entering it. Bea was diagnosed with Alzheimer's in 1987, and in a few short years this valiant lioness of a woman disappeared into the unforgiving chasm of this disease. This award is given annually to a person living with dementia or a caregiver who has shown this same determination, fearlessness, hope and humor in our shared fight against Alzheimer's.
Schedule
Interactive Virtual Events
7:00 PM Virtual Doors Open
7:15 PM Interactive Activities
8:00 PM Livestream Program
2023 SPONSORS COMING SOON!
Committees
Gala Co-Chairs
Sigrid and Vinton Cerf 
Maddy and Ken Dychtwald 
Marilyn and Michael Glosserman 
Carol Brown Goldberg and Hank Goldberg 
Arlene and Robert Kogod 
Jill Lesser and Jonathan Diesenhaus
Marion and Robert Rosenthal Family Foundation
Karen and Chris Segal 
George Vradenburg 
Judy and Leo Zickler
Champions
Dr. Philip & Faith Bobrow
The Honorable Ann Brown
Meryl Comer
Lauren & Glenn Howard
Invariant
The Herbert J. & Dianne J. Lerner Foundation
Senator & Mrs. John D. Rockefeller IV
Sandra & Larry Small
Sara Crown Star
Shawn & Howard Taylor
Advocates
John T. Beaty Jr & Anne L. Mehringe
Elise & Marc Lefkowitz
Joseph Perpich & Cathy Sulzberger 
Warren & Abigail Klem Spector
Harold and Nancy Zirkin
Host Committee
Gail Bassin
Ray & Nina Benton
Janis Buchanan
Susan & Dixon Butler
Lindsay & Terry Eakin
Marsha Henderson
Tom and Claudia Henteleff
Berna Heubner
Gail & Benjamin Jacobs
Bobbie & Bill Kilberg
Louis Levitt & Joan Bialek
Daniel Marren
Alan & Amy Meltzer
Joan Nathan Gerson
Norman Ornstein & Judy Harris
Carol Pensky
Gordon & Carole Segal
Tina Stoll
Ronald and Sarah Stone
Katie Ward
Alice Watkins
Stacy Winick & Steve Guttentag
Honorary Congressional Committee
The Honorable Rick Allen 
The Honorable Don Bacon
The Honorable Andy Barr 
The Honorable Nanette Barragan 
The Honorable Ami Bera 
The Honorable Don Beyer 
The Honorable Sanford Bishop 
The Honorable Marsha Blackburn 
The Honorable Roy Blunt 
The Honorable John Boozman
The Honorable Anthony Brown 
The Honorable Michael C. Burgess
The Honorable Richard Burr
The Honorable Cheri Bustos
The Honorable Shelley Capito
The Honorable Bob Casey 
The Honorable David Cicilline
The Honorable Katherine Clark 
The Honorable Steve Cohen 
The Honorable Tom Cole 
The Honorable Susan Collins
The Honorable Gerry Connolly 
The Honorable Charlie Crist 
The Honorable Diana DeGette
The Honorable Rosa DeLauro
The Honorable Suzan DelBene
The Honorable Ted Deutch 
The Honorable Debbie Dingell 
The Honorable Lloyd Doggett 
The Honorable Anna Eshoo
The Honorable Brian Fitzpatrick 
The Honorable Lois Frankel 
The Honorable Bill Foster
The Honorable Raul Grijalva
The Honorable Vicky Hartzler 
The Honorable Jaime Herrera Beutler
The Honorable Eleanor Holmes Norton
The Honorable John Kennedy
The Honorable Ron Kind
The Honorable Adam Kinzinger
The Honorable Derek Kilmer 
The Honorable Angus King 
The Honorable Amy Klobuchar 
The Honorable Ann "Annie" Kuster 
The Honorable Darin LaHood
The Honorable Doug Lamborn 
The Honorable Patrick "Pat" Leahy 
The Honorable Ted Lieu 
The Honorable Zoe Lofgren 
The Honorable Brian Mast 
The Honorable Doris Matsui
The Honorable Betty McCollum 
The Honorable Cathy McMorris Rodger
The Honorable Chris Murphy 
The Honorable Alex Padilla 
The Honorable Chris Pappas
The Honorable Nancy Pelosi 
The Honorable Chellie Pingree
The Honorable Rob Portman 
The Honorable Jamie Raskin 
The Honorable Tom Reed
The Honorable Lucille Roybal-Allard  
The Honorable Mary Scanlon
The Honorable Jeanne Shaheen 
The Honorable Chris Smith
The Honorable Jackie Speier
The Honorable Thomas "Tom" Suozzi
The Honorable Thom Tillis 
The Honorable Paul Tonko 
The Honorable David Trone 
The Honorable Fred Upton
The Honorable Chris Van Hollen 
The Honorable Mark Warner
The Honorable Roger F. Wicker
---
The Brain Trust
Mrs. Laura Bush, Former First Lady of the United States
Honorary Chair
Elizabeth Cousens, Chief Executive Officer; UN Foundation
Kim Campbell, Wife of the late Glen Campbell, Founder; CareLiving.org
Renée Fleming, Soprano
Dolores Huerta, Founder and President; Dolores Huerta Foundation
Kay Coles James, President; The Heritage Foundation
Jo Ann Jenkins, Chief Executive Officer; AARP
Kerry Kennedy, President; Robert F. Kennedy Human Rights
Judith Lichtman, Founder; National Partnership for Women and Families
Mary Matalin, Political Consultant
Lauren Miller Rogen, Co-Founder; Hilarity for Charity
Mandy Moore, Ambassador; Be Brain Powerful campaign
Kathleen Sebelius, Former Secretary; Department of Health and Human Services
Donna E. Shalala, Former Secretary; Department of Health and Human Services
Jay Newton Small, Journalist, Founder and Chief Executive Officer; MemoryWell