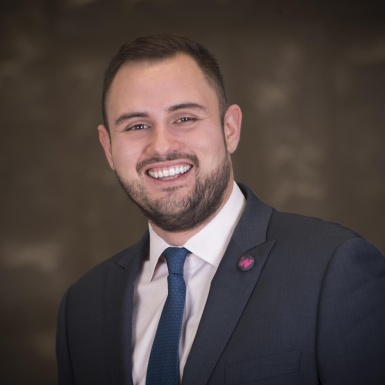 Jason Resendez
Executive Director of the UsAgainstAlzheimer's Center for Brain Health Equity and head of the LatinosAgainstAlzheimer's Coalition
Jason is the Executive Director of the UsAgainstAlzheimer's Center for Brain Health Equity and head of the LatinosAgainstAlzheimer's Coalition. From clinical trial inclusion to paid family leave for dementia caregivers, he champions brain health equity at every level of the healthcare system.
Jason has helped establish UsAgainstAlzheimer's as a hub for driving brain health equity through patient-centered public health promotion strategies, equity-centered research and policy analysis. He spearheads peer-learning and direct engagement with community-based organizations, public health stakeholders, and research centers across the country to advance health equity initiatives that shape and influence national thinking and action.
He has contributed to research on the socioeconomic impacts of brain health inequities and on the science of community engagement in brain research. He is currently a co-investigator of the NIH-funded FOREVER Project (Foundations of Representative Engagement, Valid & Effective Recruitment in Alzheimer's Research) with Dr. Jonathan Jackson of Massachusetts General Hospital.
Prior to UsAgainstAlzheimer's, Jason held senior positions at two of the nation's leading Latino-serving organizations, UnidosUS and LULAC National Educational Service Centers, Inc.
Jason is a Google Next Generation Policy Leader, an Aspen Ideas Health Fellow, and he serves on the board of the Youth Movement Against Alzheimer's. He has been quoted by The Washington Post, Time, Newsweek, Univision and others on health equity issues.
Jason is from South Texas and graduated from Georgetown University.
Bucket list item: River ride down the Amazon
Favorite book: "The Namesake" by Jhumpa Lahiri
Every moment is an organizing opportunity, every person a potential activist, every minute a chance to change the world.
Delores Huerta
Jason's Story
One of my fondest childhood memories is watching my great grandmother celebrate her 91st birthday. Our entire extended family gathered to celebrate her long life with mariachi music, BBQ, and the biggest sheet cake I'd ever seen. Despite growing up poor as the daughter of field workers, she was rich in love and the memories of her family. I'm in the Alzheimer's movement because I believe memories are precious and worth fighting for.