"Of all the forms of inequality, injustice in health care is the most shocking and inhumane."
— Dr. Martin Luther King, Jr.
Your voice matters
Blacks are two times as likely to get Alzheimer's as whites. Join us to end this disparity!
Honorary Founding Chairs
The founders of AfricanAmericanAgainstAlzheimer's are leaders from across the United States who share our commitment and passion to seek an end to Alzheimer's disease by 2020. They represent a wide diversity of interests and expertise and are led by four distinguished Honorary Co-Chairs: the Reverend Al Sharpton, Director of the National Action Network; Dr. David Satcher, Former Surgeon General of the United States; The Honorable Kay Coles James, Former Director of the Office of Personnel Management; and Ms. Melody Barnes, Former head of President Obama's Domestic Policy Council.
Our founders are individuals recognized as civic, social, business, and professional leaders. Many have experienced the ravages of this disease first hand. All passionately believe that the disparate impact of Alzheimer's—which affects African Americans at twice the rate that it does non-Hispanic white Americans—must be addressed.
5.7 million

Americans currently have Alzheimer's disease.

20%

of Americans with the disease are African Americans, and they bear 33% of its national cost.

4th

Alzheimer's is the 4th leading cause of death among older African Americans.
The Costs of Alzheimer's and Other Dementia for African Americans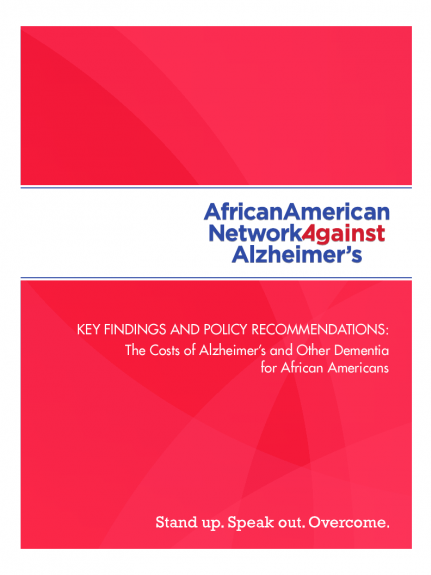 Events
Forget Me Not
AfricanAmericansAgainstAlzheimer's, an UsAgainstAlzheimer's network, presents the national award-winning play Forget Me Not at locations across the country.
"We need to ban together to increase minority participation—and African American participation in particular—in clinical trials. It's the only way to ensure that new drugs, treatments, and therapies are both safe and effective for our community."

Stephanie Monroe

Director of AfricanAmericansAgainstAlzheimer's
Stand Up
Be aware, be informed, get tested.
Speak Out
Visit the Action Center to help stop Alzheimer's.
Overcome
Despite being over 13.4 % of the population - fewer than 5% of clinical trials participants are African Americans. We must ban together to ensure that research includes All of Us if it is to work for All of US.